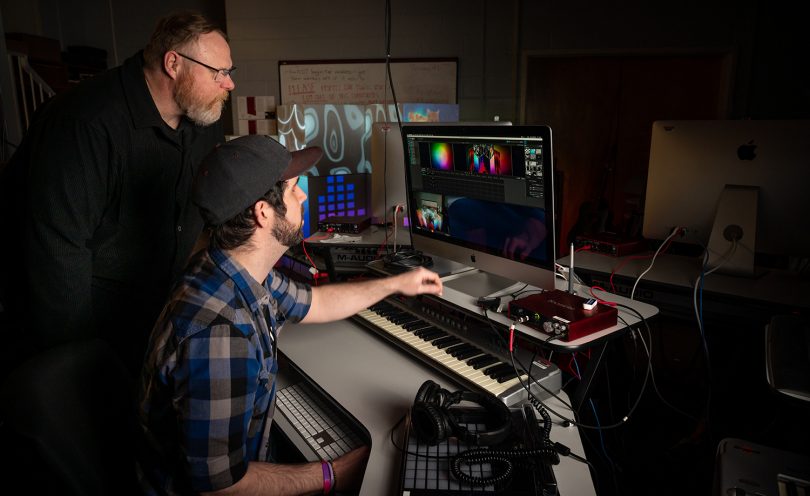 Imagine something as plain as a coffee mug or the side of a building suddenly being illuminated with digital art and media, instantaneously bringing to life these 3D objects.
Transylvania University students and Timothy Polashek, a music professor and director of digital arts and media, are developing a new studio in the school's DArt Lab for this technology — called projection mapping — where an image or display is projected onto a "mapped" location that's part of an object or surface. 
"I was first introduced to the software and concept of projection mapping through my Interactive Media and Music class taught by Dr. Polashek," said sophomore John Payne, who helped plan and build the projection mapping studio.
Professor Polashek said four or five students have been working on the project, experimenting with different mock-ups and trying out the projections around campus.
This technique will be a primary feature in the upcoming SCAPE exhibition, a senior showcase for graduating studio art and digital arts and media majors from March 3 to April 10 in Transylvania's Morlan Gallery.
Besides being part of the SCAPE exhibition, projection mapping can be used around campus and be incorporated into an overall liberal arts education.
"Concerts, school tours and even sporting events all have the potential to harness the creativity that projection mapping allows," Payne said. "Transylvania could benefit greatly from the unique experience that this technology offers."
Projection mapping combines different mediums — joining technology and art — to express a certain artistic freedom. Like the freedom a liberal arts education grants its students, projection mapping has a versatility that can create opportunities for development within many fields of study, not just digital arts and media.
"I hope to grow my knowledge of projection mapping so that I can not only create my own art, but also help students and the university realize their own artistic visions," Payne said.
---
Annebelle Klein is a Transylvania senior double majoring in writing, rhetoric, and communication and French.