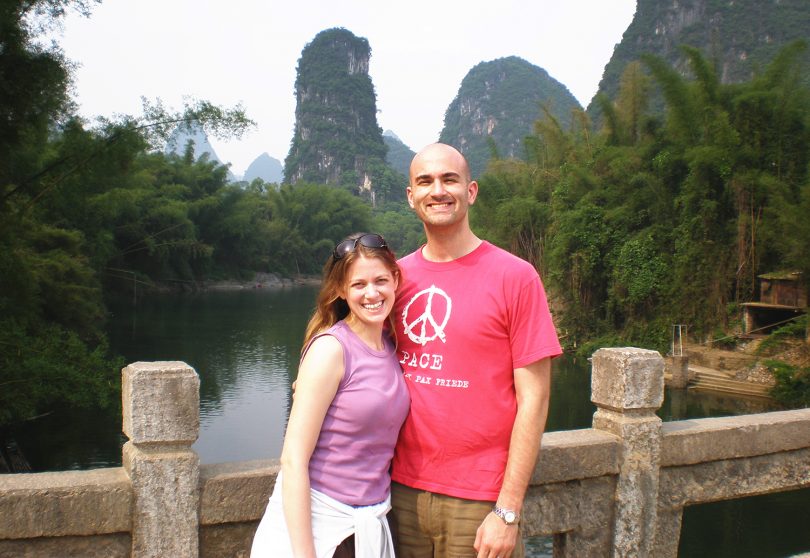 Stephen Hess, a Transylvania University political science professor, has become a national spokesman for keeping the Peace Corps in China after it was recently announced the program would be ending there.
Hess, who taught school as a Peace Corps volunteer in China and runs a Facebook group for returnees, started a change.org petition to support his cause.
"We love the Peace Corps, and we love that they're in China," said Hess, co-coordinator of Transylvania's Peace Corps Prep Program. "They had such a great on-the-ground presence there that we want to see it continue."
Since the Peace Corps' China program began almost three decades ago, more than 1,300 Americans have served as volunteers in that country, often, like Hess, teaching English to students on a path to become teachers themselves.
According to a recent article in The Hill, which included comments from Hess, U.S. Sen. Rick Scott of Florida has worked to not only change the agency's independent status, but also to block it from placing volunteers in any "hostile nation." Scott also said he doesn't think Peace Corps volunteers should be sent to a nation as wealthy as China. (The coronavirus outbreak accelerated their exit from the country as well, according to the Hill.)
Hess countered by saying much of China — including the interior where the Peace Corps had operated — isn't nearly as developed as major coastal cities like Shanghai. Additionally, he sees the agency as a way to improve relations between countries through person-to-person interaction.
While on the one hand China and the U.S. are culturally different with contrasting forms of government and they grapple over commerce, they're each other's largest trading partner. "You can't just cut yourself off from a country that's so important." said Hess, who's also an expert on forms of popular protest in China.
Relationship building, after all, is what the Peace Corps is about. The agency isn't part of the State Department, and its volunteers aren't following some kind of script. "They're just engaging on a human level," Hess said. The Chinese were "getting an authentic experience with Americans they otherwise wouldn't get." Insights from interpersonal interactions circumvent what the Chinese learn about Americans through the media, much of which is censored by their government. Conversely, private conservation is pretty much unrestricted.
Another goal of the Peace Corps is for volunteers, upon their return, to share their experiences with other Americans, which can add complexity to what we may feel about China.
The volunteers were in China to serve and represent America and its ideals, Hess said. "It's a unique combination of nationalism and globalism."
He also called the agency a non-partisan space that has support from members of both sides of the aisle in Washington. While the national Peace Corps director is appointed by the president, the agency acts independently like the Post Office. Hess said he doesn't feel members of Congress such as Scott should dictate where the volunteers serve.
The best hope advocates have of keeping the Peace Corps in China is new leadership in Washington, Hess said. "We're not criticizing the Peace Corps itself; we're criticizing this unwarranted pressure on the Peace Corps — just basically leave it alone and let it do its thing."