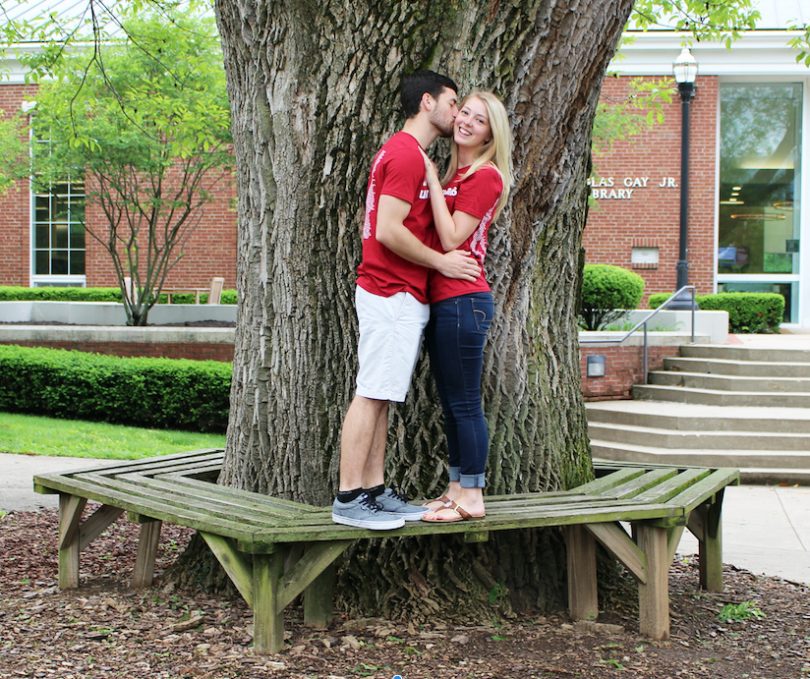 Although Jared Brewington '16 and Eden Yeiser '16 met "unofficially" on move-in day, when he and a friend spontaneously helped her move some furniture up to her room, they consider their "official" meeting as the first day of calculus during their first semester at Transy. Eden remembers Jared arriving late and taking a seat nearby. They became friends from there. Soon Jared was feigning the need for Eden's help with homework, even though, as he later admitted, he was a lot better at math. At the end of the term, Eden notes, "He got an A in calculus. I did not." When, over the winter break, he texted that he was thinking about dating someone else, she texted back: "No, I don't think so. I think we are going to date."
This Valentine's Day, as we celebrate all of our #PioneerPairs, Jared and Eden Yeiser Brewington share what it has meant to build their personal and academic lives on a strong Transylvania foundation. Jared is pursuing a Ph.D. in physics, and Eden, a doctorate in pharmacy — both at the University of Kentucky.
"Being with a fellow Pioneer is interesting," Jared explains. "On the one hand we developed similar values at our time at Transy. This similarity helped us grow closer in all our years together. At the same time, a Transy education inspires you to consider someone else's view point and to celebrate diversity. I think this side of our education has helped us mature as a couple, really working to understand and respect each other's perspective."
"Oh my gosh that's a great answer," Eden interjects.
Jared, who was pre-med when he arrived at Transy, found himself unexpectedly assigned to a physics course in that same first semester. He loved it. He was drawn to the problem solving. With the helpful push and example of professor Jamie Day he committed to the several grueling years of grad school. He's now deep into nuclear physics, researching and designing a coil that will provide a uniform magnetic field for an experiment in Los Alamos National Laboratory in New Mexico. He'll be moving there in April to finish his Ph.D.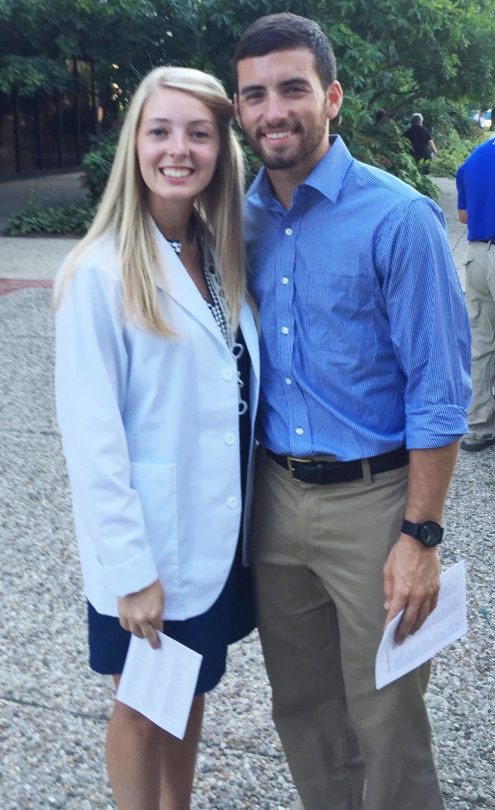 Eden says she was always interested in something healthcare related. She decided to major in biochemistry because she liked the science of the breakdown mechanisms. And because, she adds, "the chemistry faculty are amazing." She remembers Transy's "awesome atmosphere of always feeling like you were supported to learn and grow in your own path, with professors there to answer any questions." This extended to a sense of nurturing camaraderie outside the classroom, too. So many times she sat with professor Rosenberg, "chit-chatting about life and things," she reminisces. "It's a good support system."
As she works toward a Pharm.D. at the University of Kentucky, she's anticipating residencies and specializations that will put her in the demanding environment of intensive care, rounding with the medical team, choosing the best medications for the patient. She also may select neurocritical care or trauma. She, too, is a problem solver. "That's what I really enjoy," she admits. "I like coming in and seeing all these crazy problems, prioritizing what's important and working my way through the process." The dynamic, demanding world in which patients code or seize in the middle of rounds compels her. "You have to react and determine what you need to be doing in that moment."
Both Eden and Jared have found themselves highly prepared to excel in their fields of study. "Transy's liberal arts curriculum teaches you how to learn," Jared says, "which is the most important skill I could have." Even in cases when the people around him have been ahead of his skills at the beginning of an assignment or project, he says, "I am able to pick up things quickly and catch up on or even surpass others because I have a solid foundation of learning to build upon."
Eden echoes how the curriculum "gives you those fundamental skills of analyzing a problem and finding the path you need to take and then build up your own." She acknowledges the dual facets of development, from taking classes, like history, that pushed her into less familiar, non-STEM territory to the rigor of the science curriculum. She acknowledges how it has paid off. "Especially for pharmacy," she says, "Transy really prepared me." In her first year of graduate school she found that she already knew most of the content (from her biochemistry major and other classes). As the content grew more difficult, she realized that by having put in the time at Transy she understood the basics of what was happening in each class. "So Transy definitely prepared me to be at the top of the class for that."
Jared emphasizes as well that "Transy science courses aren't necessarily all about material; it's about being presented with a novel problem and using the skills you've been taught to find a solution." This has helped him succeed in his courses and research at UK.
When the alumni pair are asked what they would share with prospective Pioneers who are thinking about their future college experience, Jared offers: "Your four years at Transy aren't just about the paper that you get on the last day, it's about building the best possible you. There will be growing pains, but all the hard work and long nights are worth it."
Eden pauses as if scoping out the decades ahead. "I just really enjoyed my Transy experience," she says. "We met people who will be with us the rest of our lives, as well as feeling prepared to go out and about on our own. I think Transy really prepared us for that. Those really are the best four years of your life.