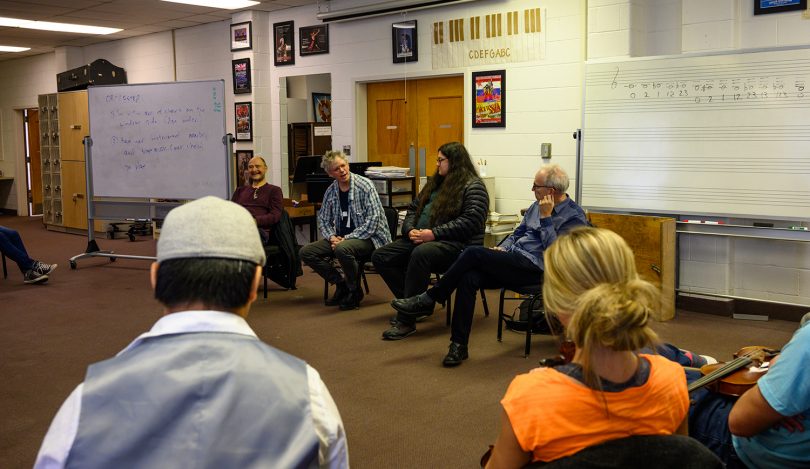 Fresh from a concert at Carnegie Hall and a Grammy win on Sunday night, the Kronos Quartet met with members of the Transylvania orchestra on Monday afternoon. They broke the ice sharing stories about their early days as musicians, about "winning" and "losing" the Grammy over the decades, and the importance of maintaining an "even keel" throughout the ensemble's astonishing career.
The Kronos Quartet performs in Haggin Auditorium tonight at 7 p.m. The concert has sold out.
Merriam-Webster defines a string quartet as four performers, including a first and second violin, viola and cello. David Harrington, violinist and founder of Kronos, sees it more as an expression of life in all its beauty, ugliness and fascination. To accomplish this level of musical storytelling requires extraordinary technique, expansive imagination, significant risk, camaraderie and an enthusiasm and commitment to new voices and ways of playing.
The ensemble's devotion to advancing the art form compels them to share their experience in classrooms, to commission new works and to create online projects like "50 for the Future." They invited Transy student musicians to take advantage of this free online library of new chamber music available for downloading, learning and performing, along with the tools to interpret and understand the techniques required. For the project, they commissioned 50 composers — 25 women and 25 men from many cultures — to contribute to the repertoire. As violinist John Sherba noted to Transy's musicians, the project also encourages learning about the culture of the composer.
Opportunity and risk often come in tandem. For young musicians facing artists of this caliber, in front of their peers, putting bow to string and letting it rip requires a degree of grit and chutzpah. But the generosity and encouragement from Kronos members and their disarmingly relatable stories of their early days as musicians prevailed.
Cellist and composer Paul Wiancko, who is substituting for Sunny Yang while she is on maternity leave, spoke about finding his way as a composer. He described the seemingly opposite pulls he felt as a teen in having simultaneous interests in underground punk music and Lutosławski's cello concerto and how they could come together in his professional career. He borrowed a violin and a viola to play "cello style," explaining how he records demos of the music he composes.
Hearing of Wiancko's less traditional route inspired physics major and Transy's concertmaster, Ben Sexton '22, to pick up his violin and offer an improvisation. Cellist MacKenzie Sloan '22 then played a bit of Schumann. Each member of the quartet offered suggestions, with violist Hank Dutt reminding the string players to let the elbow lead the bow arm.
"It was very helpful and informative in a lot of ways," says Sexton, whose true passion is music. He appreciated being able to learn from people who have so much more experience and who have experimented with many different things to help them improve. As the musicians talked with him about varying the bow stroke and how to use silence, it became a breakthrough moment for him. "Hearing from a composer that space is a good thing," he later explained, "I'm not scared of incorporating it anymore."
Sloan, a political science major and history minor who has a fine arts scholarship, absorbed the musicians' multiple approaches on how to nail a challenging shift at the other end of the fingerboard. She admits it was nerve wracking, but found that she wasn't worried about their feedback because they were so kind. "They made me feel good about it." Her biggest takeaways were: "If there's a moment, take it." And trust yourself. The advice from her fellow cellist was, she says, an important reminder. "You know where the note is. You've got it. Close your eyes. You can do it."
As Sloan anticipates the Tuesday night concert in Haggin, she is excited about the pioneering repertoire she'll hear. It will be the perfect culmination of what she describes as a unique Transy experience. "The fact that we can sit down and have an intimate, candid conversation with four members of such an astounding group is really meaningful to me."