Alexa Valarezo '21, a math and religion major at Transylvania University, remembers her first visit to campus during her college search and how it stood out from the others. It wasn't just that it was the right size (not too large) and in an interesting location (a city), but that she could sense her potential on the campus.
"It felt right," she recalls. "I felt like I had something to do here. There was going to be a place for me and my voice was going to be heard."
As someone who had been uncertain about how to put herself forward as a leader, Valarezo found the tools, experience and encouragement she needed at Transy. By her sophomore year, she had launched SOL, the Student Organization for Latinos which promotes Latinx and "is for any person striving for the empowerment and liberation of the Hispanic culture." As president, she's worked to build a supportive community and to illuminate the deeper implications of commonplace interactions.
"A lot of microaggressions are implicit," she explains, "not always on purpose or from a bad place, just from a place that you don't realize … but they are equally as impactful, for sure."
When asked what makes her a good leader, Valarezo pauses and offers that it is her ability to "recognize that there is something wrong" and to understand that "just complaining doesn't change anything, action does." It's a process she continues to work on, she says, along with patience and trying to keep from veering too much toward the negative. "Everything you start from the ground up takes time," she explains. "It's hard when you're young and trying to realize that everything takes time."
"It felt right," she recalls. "I felt like I had something to do here. There was going to be a place for me and my voice was going to be heard."

Alexa Valarezo '21

Valarezo says she's learned the most about leadership as a member of the Phi Mu sorority and the Student Activities Board. In Phi Mu, where she continues to serve as treasurer, she says, "I have seen so many amazing women be leaders in different ways — because being a leader doesn't always mean you have a leadership position." Watching these women in academic life "balancing their academics, sports and their lives," she explains, "has given me a lot of power." Last summer she attended the Phi Mu Leadership Institute and subsequently received a Phi Mu Foundation scholarship.
Additionally, members of Transy's Student Activities Board gave her the confidence to be a vice president for the organization. "They encouraged me to want to go for an executive position," she says, noting how they helped her recognize that she had ideas and a voice. Their belief in Valarezo helped her develop a sense of her own capabilities, rallying her to step up, take advantage of her skills and put herself on the line.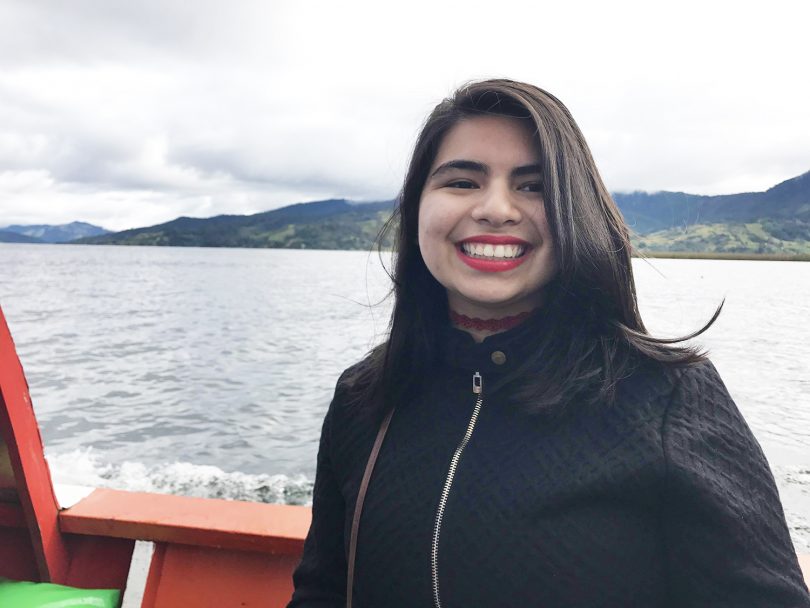 It's the process of being valued that helped Valarezo discover her own talents and made her wish to do the same for others, serving as a tool for people in the future — "as a mentor or guide for how people want to live their lives and do what they think is best," she says. "Because there have been people who have served that role for me." The sense of responsibility is palpable. And what she has learned and shared on campus is just the start.
Ultimately, for Valarezo, becoming a leader is as much an endeavor to give back to those who helped her as it is to build a legacy. The legacy part will take time, she knows, after gaining wisdom from a speaker at a leadership conference in Kentucky. "She left me with a positive approach," Valarezo explains. "You're leaving a legacy by leaving people the tools to lead, to pick up what you've been able to do and improve upon it — whether that means changed goals or different approaches. That's okay," she notes, "because everything changes over time."   
Now a junior and an example to others, she says she should take advantage of her voice. "Not everyone has the ability to do so," she adds.