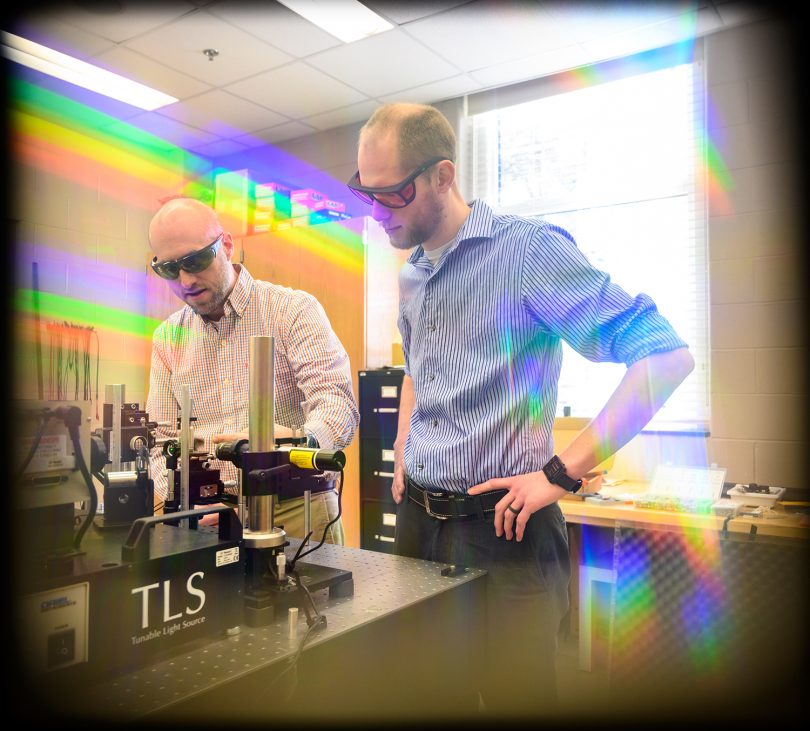 Two Transylvania University professors will receive part of a $24 million National Science Foundation grant to help boost Kentucky's research and manufacturing capabilities.
Over five years, the university is expected receive a total of around $200,000 for faculty and student physics research and cutting-edge chemistry lab equipment.
The research at Transylvania made possible through these funds will complement studies of next-generation materials by University Kentucky scientists. UK also received a portion of the NSF grant, which is awarded by the Established Program to Stimulate Competitive Research (EPSCoR). These awards go to states that have been historically underrepresented by NSF funding.
The recent grant — which went to a total of eight Kentucky colleges and universities according to their particular areas of expertise — funds an overall, collaborative project called the Kentucky Advanced Partnership for Enhanced Robotics and Structures.
"One of the ideas of the grant is to develop methods of manufacturing where we can embed sensors onto advanced manufacturing robots that can detect and measure things in ways that current robots cannot," Transylvania physics professor Stephen Johnson said.
Johnson will receive around $30,000 a year to collaborate with a student over five summers. They will measure optical properties of advanced materials — like those used in solar cells — that UK will design for manufacturing systems. Using equipment already installed in a Transylvania Brown Science Center lab, they will study properties of these materials with colored laser beams in a procedure called photothermal deflection spectroscopy.
"It's a great opportunity for Transylvania to be able to participate in research at this level," Johnson said.
It means Transylvania students will be involved in research that will eventually be published and presented at conferences. These students — especially those going on to STEM fields in graduate school — will also benefit from learning how to conduct collaborative research across institutions. "I'm just excited to be part of the whole effort," Johnson said.
Kyle Schnitzenbaumer, a Transylvania chemistry professor, also received part of the EPSCoR grant: $50,000 in seed funding for instruments that determine the intensity and color of light a material absorbs and emits.
Schnitzenbaumer's research group will use the new equipment — a spectrophotometer and spectrofluorometer — to look at classes of materials such as quantum dots, which are tiny chunks of crystalline material and are of particular interest to the chemist. Researchers can change properties (like color) of quantum dots by simply making them smaller or larger. To get the same effects with other types of materials you'd have to change the molecules themselves. (Quantum dots are used a lot in state-of-the-art TV screens.)
While Schnitzenbaumer will use the new equipment to collaborate with research funded by the NSF grant, the instruments will be available for students to use in their own studies. This beefed-up lab capability also will improve the university's chances when competing with other institutions for future grants.
Additionally, the equipment and research made possible by the federal funding will provide Transylvania students with learning experiences many undergraduates don't have access to.
"It's a fantastic program," Schnitzenbaumer said. "We're very fortunate to benefit from its existence."
All told, the project funded by the NSF money will harness the collective research power of 40 multidisciplinary scientists from across the state, according to UK. "The research results will have applications in the construction of components for robotic and autonomous systems in areas as diverse as elder care, home service, health care, education and other collaborative human-robot interactions."
In a joint statement, UK president Eli Capilouto and UofL president Neeli Bendapudi said: "This cooperative project will help bolster Kentucky's economy, create jobs and put the Commonwealth at the forefront of automation and human-machine interaction. Kentucky is at its best when our brightest minds are working together to answer our toughest questions. We are dreaming boldly, so that we might achieve greatly, and we can't wait to see what this group will accomplish."