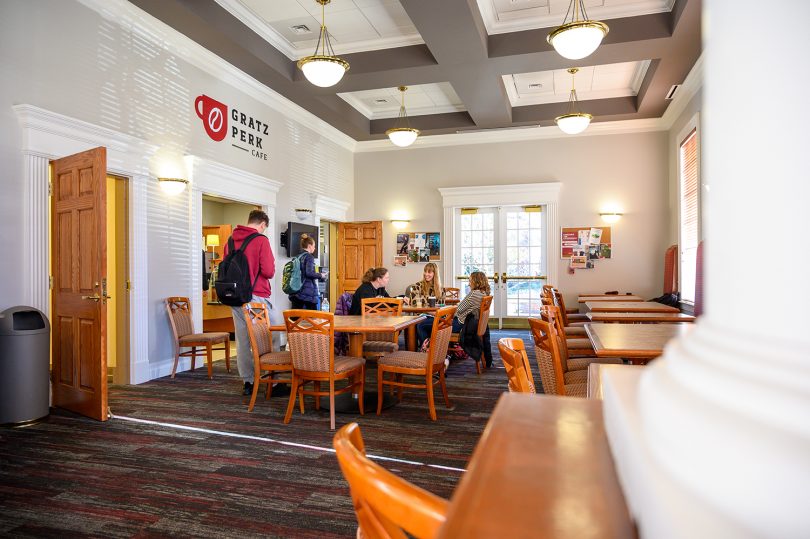 Transylvania University's Gratz Perk Cafe coffee shop will continue its Saturday hours for the rest of the academic year, a move that is not only well received by students but may even help with admissions.
Emily Neat, a senior admissions ambassador, believes that the shop being open on Saturdays positively affects her job. "As an ambassador, I like that our visitors will get to see it in operation and be able to grab a snack there," she says. "I know that when I toured the school's campus, I was very confused by the description of the shop because I never saw it in operation, so this is a great way to eliminate that confusion for our guests."
Railey Abell, a sophomore admissions ambassador, also believes that the shop's Saturday hours will make weekend tours of the campus more enjoyable for guests. She says that "the weekend hours will allow guests to purchase a nice beverage and snack and let them witness the campus dining accommodations firsthand." She also mentions how the weekend hours will allow guests to see an aspect of student life they would have missed had the shop not been open on the weekend, since Gratz Perk is a popular place for students to do work and hang out in between classes during the week.
Besides benefiting just campus guests, the shop's Saturday hours are also providing a campus study space for students. Abell says that from a student's perspective, "the extra hours are a great addition to campus dining options for the weekend." They're great for students who prefer to study in a cafe environment on the weekends, she continues, as well as for students who would like an iced coffee and have the opportunity to buy one with their meal plan.
So, if you're looking for a place to grab a bite or need a place to study on the weekends, look no further — Transylvania students suggest Gratz Perk, which is also open to the public.
In addition to the Saturday hours of 9 a.m. to 1 p.m., the weekly hours are Monday through Friday from 7:30 a.m. to 3 p.m.
---
Annebelle Klein is a Transylvania senior double majoring in writing, rhetoric, and communication and French.