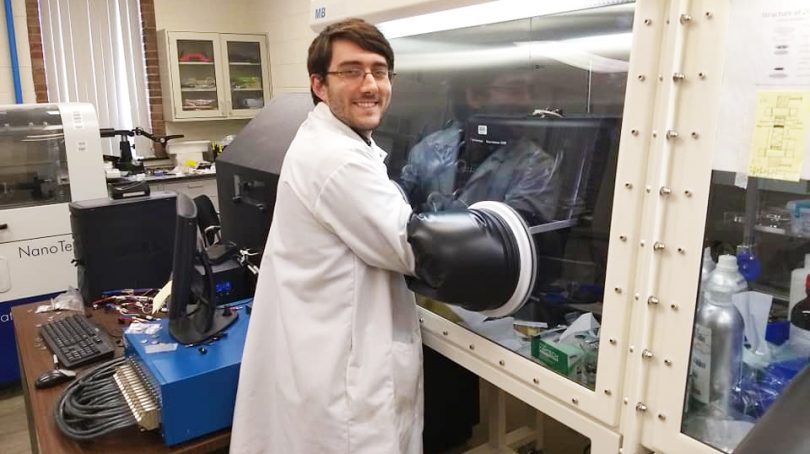 Transylvania University graduate Andrew Meyer '17 had dreams of following in his grandfather's footsteps and joining the military, but a peanut allergy thwarted any chance he had at pursuing that path. But as a pre-engineering student at Transylvania, he worked with physics professor Jamie Day to build a new path, one that would allow him to find another innovative way to serve his community.
He took advantage of Transy's 4+1 engineering graduate school partnership with the University of Kentucky to take courses at its school of engineering as an undergraduate at no additional cost. He graduated from Transy with a degree in physics, and when he applied for UK's master's program, his adviser, Yang-Tse Cheng, offered him free tuition to join his group and go straight into the Ph.D. program instead.
"That kind of opportunity was hard to pass up, so I agreed," Meyer says. "And when I started my graduate course work, I was not far behind the other students. I quickly caught up, and even got ahead when the courses started getting into new material."
Meyer is currently in his third year of the Ph.D. program, on track to finish his degree by 2022. He plans to lead research and development teams to advance the current understanding of energy storage, which will help protect the community and the environment.
His passion for research and collaboration began as an undergraduate, and the preparation he received at Transy along with the opportunities he was afforded through its collaboration with UK laid a foundation for his current and future work.
"Being able to work as a team with others outside of your area of expertise, and being able to effectively communicate, is crucial," he says. "This is where a liberal arts education really gave me an advantage. It helped me to become a team player and gave me opportunities to develop my soft skills such as communication and leadership."
Transylvania has graduate school partnerships in engineering, medicine, pharmacy and business, and their popularity is growing as students are finding that they can enjoy all the benefits of Transy's personalized education without sacrificing program-specific training. In fact, some of those partnerships guarantee spots to Transy students every year, as they recognize how well-prepared students are to succeed.
"Graduate work is a lot of on-your-own learning and problem solving, which I was prepared for thanks to Transylvania," Meyer says. "It gave me a leg up compared to other graduate students."