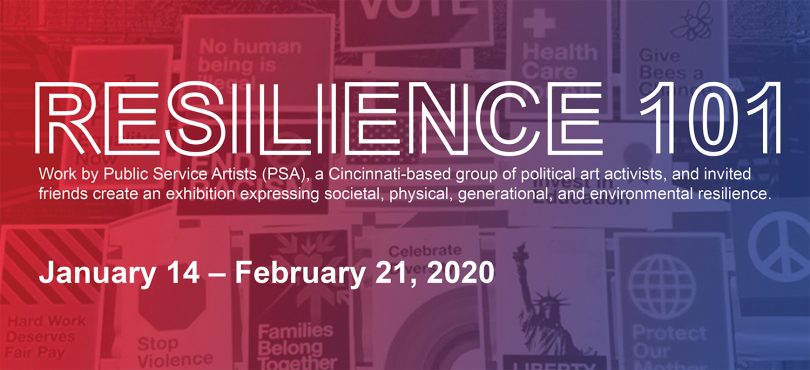 Beginning Tuesday, Transylvania University's Morlan Gallery will feature works of the civic-minded PSA (Public Service Artists) collective and invited friends.
"Resilience 101," which runs through Feb. 21, expresses societal, physical, generational and environmental resilience, reflecting the theme of this academic year. The show also is part of the university's New Frontiers series, which asks audiences to go beyond the familiar and explore ideas, art and music.
"PSA is a group of artists out of Cincinnati who are engaged in making political works that raise issues to the surface that they feel need to be confronted," said Anthony Mead, who recently became Morlan Gallery's director.
These artists are interested in proactively changing the political climate through increasing voter turnout, identifying viable political candidates, and convincing a greater public to be politically active, according to the group. Its interventions include yard signs, coasters, T-shirts and buttons, as well as interactive pop-up events and activities.
The works in "Resilience 101" vary from the more traditional — book illustrations, for instance — to the do-it-yourself aesthetic of real, beat-up protest signs from marches across the country. "Actions of resistance, or actions of protest come in all different forms," Mead said.
Another piece in the show is a wooden structure bearing signs in support of various causes or beliefs; visitors can walk inside the artwork and take a selfie surrounded by these ideas.
The exhibition's opening reception will coincide with Friday's LexArts HOP from 5-8 p.m.
Then on Wednesday, Jan. 22, the gallery will host a public panel discussion with some of the artists at 7:30 p.m. in Carrick Theater.
The gallery is closed Jan. 20 for Martin Luther King Jr. Day.