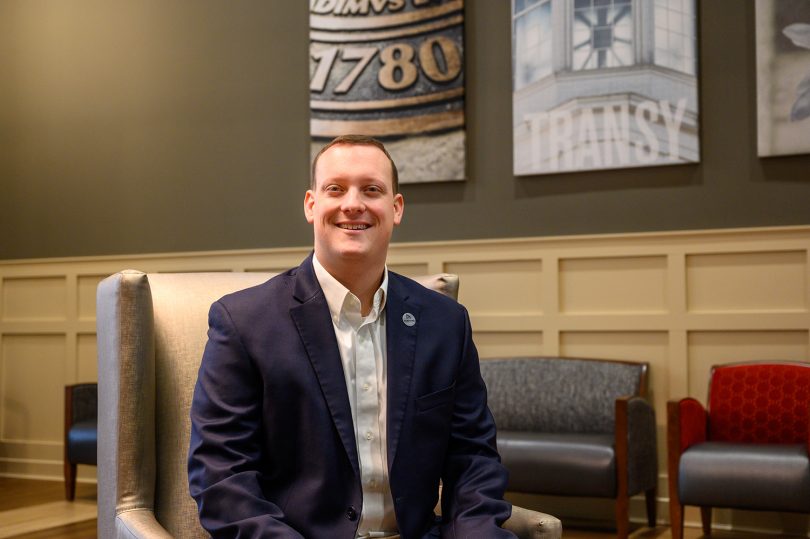 Like a reverse play in football, Jeremy Sheffield's career path took an abrupt change in direction as a student and staffer at The University of West Alabama.
He went from being a football and soccer player majoring in exercise science to dedicating his life to higher education. "I had aspirations to go into physical therapy but fell in love with college and working with students — just that whole atmosphere of growth and opportunity."
Sheffield brings this passion for serving students to Transylvania University, where he began earlier this week as the director of residence life.
His transformation started as a residence life coordinator at UWA, where he earned a bachelor's degree and Master of Business Administration with an emphasis in finance. To complement his work with students, he wanted a strong background in the intricacies of higher education financing — facilities budgets, capital projects, those kinds of things.
After earning his master's, he was promoted to assistant director of housing at UWA and launched into an Ed.D. degree program in higher education administration at Abilene (Texas) Christian University, which he completed in December. His dissertation focused on first-generation college students and the unique challenges they face both academically and socially. "I found some ways and interventions to help first-generation students be successful in college," he said.
Once he earned his doctoral degree, he knew he was ready for the next step: working at a small college in a decent-sized city. Transy fit the bill.
When he visited campus this past November, he fell in love with the people — everybody was incredibly authentic, just up front about what their goals were, he said. "Coming to Transy was important to me because everybody seemed very student centered." That's his philosophy in higher education: The students are the most important people on campus. "Without them, there would be no need for us."
His priorities include making sure students feel they have a safe home on a campus that is conducive to academic achievement and offers activities where they can bond with others, including those from different backgrounds — in other words, become a part of the larger Transylvania family.
If students have any concerns or suggestions on how to improve their experience, he asks them to talk with him about it. "I truly want to listen, and I truly want to learn about their experience and figure out how I can make it better," he said. "Working for students every day, making sure they have a fantastic experience is what drives me."
Sheffield also wants to be a mentor to them. With him, this is a form of giving back: "I was fortunate enough to have some amazing mentors in my undergraduate career who really helped make me who I am today," he said.
He encourages students to serve the campus community as well, pointing out that Transylvania is hiring residence advisers — an opportunity for students to take a leadership role on campus and learn valuable skills that will benefit them in their future careers.
When Sheffield isn't inspiring students, he may be in his Jeep headed to find a good place to camp. "A perfect weekend for me is to go out, camp under the stars, have a fire and just relax and be in nature," he said.