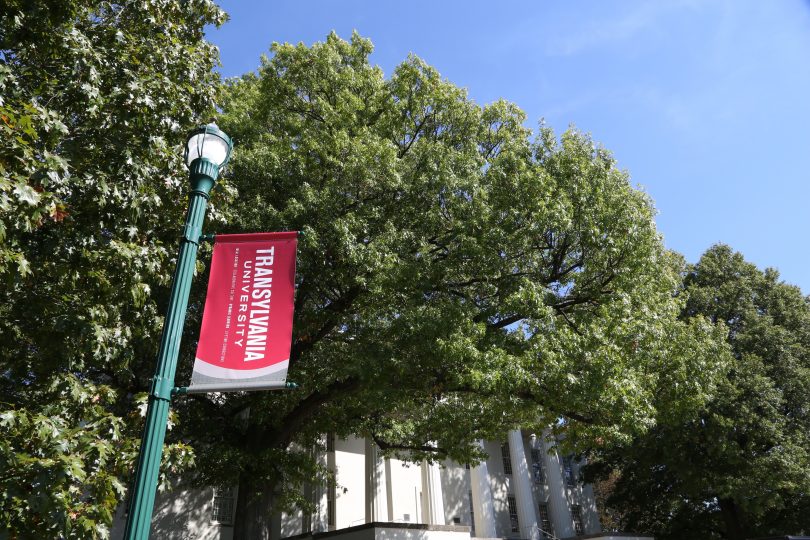 One by one, Elizabeth Lewis toured the 16 colleges her aunt, a high school counselor, advised her to consider. She knew that being on campus would give her a real sense of each place. And that's how the native of Dayton, Ohio, got to her No. 1.
"When I visited Transy," Lewis '18 recalls, "it just had the best feel to it, the most welcoming." Then, she says, she met the professors. That clinched it for the future international affairs major who, after a productive four years, is now in law school at The Ohio State University Moritz College of Law.
Arriving on campus the inaugural year of Transy's 100 Doors to Success mentoring program, Lewis began meeting regularly with Transy alumna Julie Muth Goodman '76, now a circuit court judge, whose mentorship continued all four years. Her presence provided another form of encouragement, this one from off campus, to take the time she needed to discover her true path and not to sweat the fact that she didn't yet have a plan.
"That was very reassuring to me in my freshman year when I didn't know what I wanted to do," Lewis says. "She was supportive of me in all the things I tried and didn't try to pigeon hole me into doing anything."
Lewis made the most of Transy's liberal arts offerings, branching out from her high school interests to try different areas and "see where they might lead": from computer science and accounting to neuroscience and psychology. The process of sampling so many disciplines provided her with a broad foundation and gradually put her on the right path.
She found that "history, religion, political science, social studies areas from high school — basically all of my interests" were within the international affairs track. "I didn't have to choose just one area." By the end of her second year, she realized, "my original interests held."
"I like to think that from Transy's academic experience, I'm going to be more cognitively flexible in terms of whatever I end up doing; I can handle different types of jobs just because I've handled different types of academic work."

Elizabeth Lewis '18


Her interest in public policy developed during a parliamentary internship in London over the summer of her junior year as a Hansard Society Scholar. Transy's study abroad staff had suggested she apply. The opportunity helped clarify law school as a way to pursue public affairs and civil service as a career. She began to consider a possible dual degree with a master's in public policy.
"I like to think that from Transy's academic experience, I'm going to be more cognitively flexible in terms of whatever I end up doing; I can handle different types of jobs just because I've handled different types of academic work." Knowing how much careers are expected to change over her lifetime, Lewis is confident of her "versatility in the workplace" because of her liberal arts background. "You're more versatile, you can adapt to different situations better, you're more likely to be able to meet the challenges of these different jobs," she says.
Lewis is also conscious of the "soft" skills developed in the classroom, the personal accountability and the ability to engage with a variety of perspectives. All are needed and desirable in the workforce.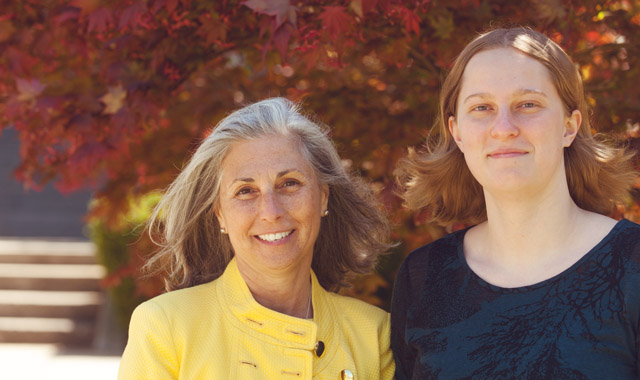 "At Transy, because of the small class sizes, because the professors are so invested in your education and because they have more wiggle room in terms of what they teach you, I feel like I got a lot more out of the professors and class sizes in terms of societal issues," she continues. "Getting a sense of where we are in society and how we interact with the rest of the world — it's probably made me a better human. It's going to help me interact with different people and respect their points of view more, to be able to listen and understand society's problems a little better."
The example set in the classroom and by her 100 Doors mentor helped inspire Lewis toward greater responsibilities and to imagine herself following suit. "I think seeing where she came from and her path gave me a lot of confidence," Lewis says of Goodman, noting that through knowing her, law became a "viable option." There's something potent in a Pioneer mentorship, the camaraderie and the commitment to something beyond campus.
"You see that this is a public figure who is respected, who cares a lot about the community, both at large and the Transy community," Lewis continues. "Just seeing how much she's cared about Transy and how dedicated she is has also made me want to do a lot of the same things — like being dedicated to my community and to continue to be dedicated to Transy."
Lewis says that Transy "trained me to have the discipline to put in the work necessary to persevere in law school." She'll be graduating next year.