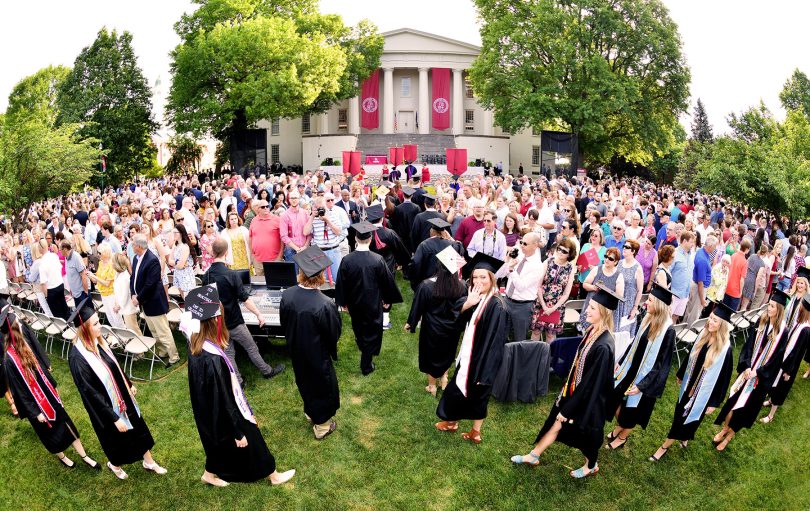 Transylvania University continues to climb in the U.S. News & World Report's Best Colleges rankings of the nation's top liberal arts schools, which were released today.
The university placed 72nd in the country — rising 15 spots in the last two years to its best-ever U.S. News ranking in the national liberal arts colleges category.
Transylvania also placed 50th in the new Top Performers on Social Mobility rating, which takes into consideration how well schools graduate students receiving Pell Grants — the majority of these funds are awarded to families with a total income below $20,000. Additionally this year, the university ranks among the Best Value Schools, which comes on the heels of similar honors from The Wall Street Journal and Kiplinger's that highlight how Transylvania provides a quality education at a reasonable price.
In its rankings, U.S. News considers factors like close interaction with faculty, institutional spending on a variety of services and programs, student excellence, timely degree completion and alumni giving.
"This year's U.S. News ranking is a testament to the dedication of the Transylvania community to continuously improve upon our tradition of excellence," Interim President John N. Williams said. "Far from resting on our laurels, we look forward to what the future will bring through innovative programs such as the Digital Liberal Arts initiative, ensuring our students are well prepared for the opportunities and challenges of the 21st century."
National rankings such as today's spotlight top-notch schools like Transylvania to help parents and students make a momentous decision. "Deciding where to go to school is tough," according to the publication. "But the … U.S. News' Best Colleges can at least make finding the right fit more manageable."
The U.S. News ranking highlights Transylvania's success at retaining and graduating students on time, which of course saves families money. More than 90% of graduates complete their degree in four years or less. In fact, the university guarantees graduation within four years as long students meet certain criteria.
Another heavily weighted factor in these ratings is faculty resources; this includes small class sizes — which means greater student-faculty interaction — and the proportion of faculty who are full time and have the highest degree in their field. At Transylvania, 98% of tenured or tenure-track faculty have a Ph.D. or the top degree in their area of expertise.
"Research shows the greater access students have to quality instructors, the more engaged they will be in class and the more they will learn and likely graduate," according to U.S. News.
The new rankings follow recent announcements from a number of college reference organizations. In the latest college rankings from the Washington Monthly magazine, Transylvania University is highlighted as one of the top 10 liberal arts colleges in the nation for promoting public service. The Princeton Review recently included Transylvania among the top 13% of the nation's four-year colleges. Transylvania is also featured as one of the nation's best colleges in 2019 by Forbes, Money Magazine and College Consensus.