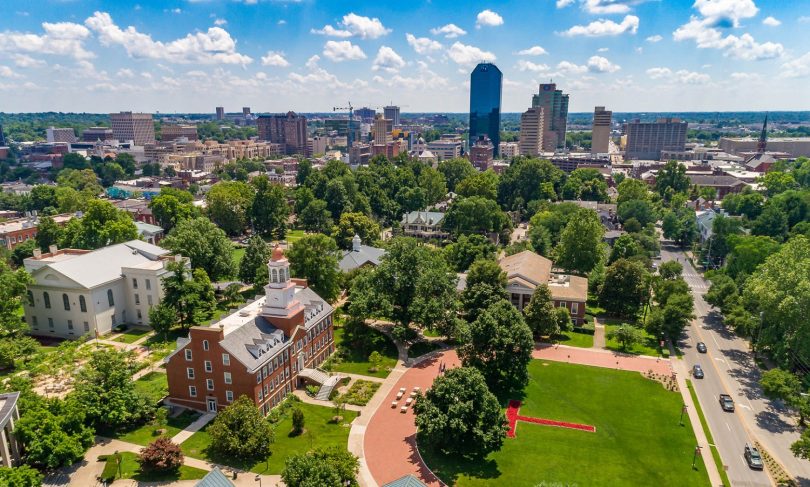 Students from across Kentucky, the United States and eight countries will join the Pioneer family on the campus of Lexington's historic Transylvania University this Friday.
Nearly 74% of the incoming first-year class is from Kentucky. The other 26% hail from 16 states — including Ohio, Indiana, Illinois, Tennessee, Georgia, Florida and California — and seven countries — Australia, Ireland, Kenya, Nigeria, Poland, Spain, Tanzania and the United Kingdom.
One in five members of the Class of 2023 is a first-generation college student, and 22% are students of color. It's the second year in a row Transylvania has enrolled its most diverse class ever.
"Our incoming class is strong academically, socially aware and very engaged within their communities. This generation of students is focused on making a difference and leaving a legacy, and we're excited that they get to pioneer those interests here at Transy," said Johnnie Johnson, interim vice president for enrollment and director of admissions. "I have no doubt that this class will be among the most active and community-minded classes Transy has seen."
This academically high-achieving class will have the choice of 46 majors, and incoming students are leaning toward careers in medicine and business. The most common areas of academic interest are: pre-medicine, business administration, psychology, biology and pre-physical therapy, with a number of students still undecided.
Transylvania is a test-optional institution, and this year 18% percent of incoming students were admitted without submitting their test scores. They were selected through an evaluation process that considers, among other areas, their classroom work, community service and essays.
Half of the members of the Class of 2023 will join one of Transylvania's 27 intercollegiate athletic teams. The Pioneers' fall athletics season kicks off this week with men's and women's soccer, volleyball and field hockey matches.
The first-year class will arrive on campus for Move-In Day on Friday, Aug. 23. A Transy tradition, faculty, staff, athletic teams, alumni and student leaders will help move the new students into their residence halls. They will then spend their first week on campus participating in an Orientation and First Engagements program. Interim President John Williams formally welcomes the class at their induction ceremony on Saturday, at 11:15 a.m. in Haggin Auditorium.
Returning students will arrive on campus on Aug. 30 and Sep. 1, and fall classes begin Sept. 3.