Where Do You See Yourself in Five Years?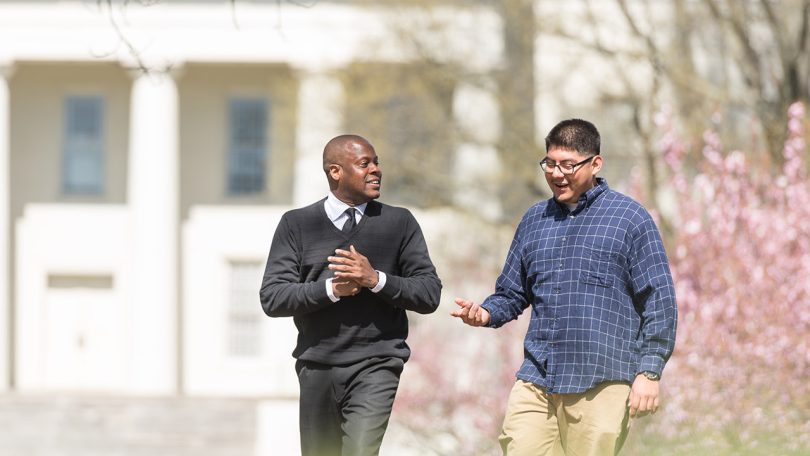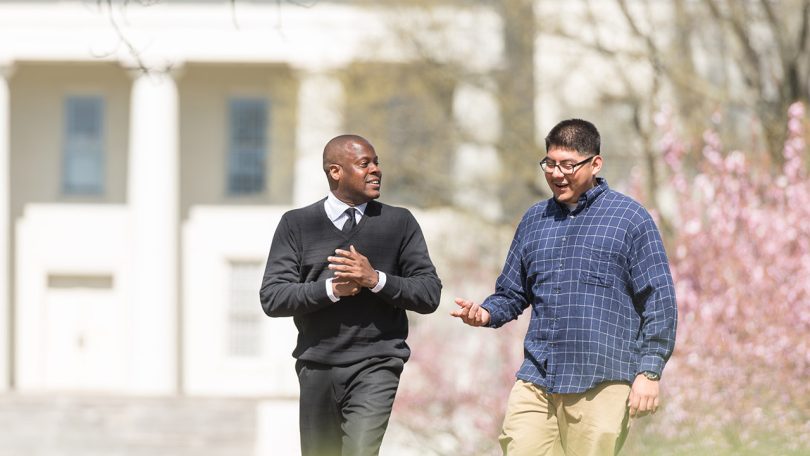 A boy from the Bronx, the son of Irish immigrants, stands before 80 high school students in Carrick Theater. His candid portrayal of his journey—his family's limited resources, having little idea of what college was, not knowing how to study, and the difficulty of fitting in— takes some of the students by surprise. He is, after all, Seamus Carey, college president.
This is their fifth and final visit of the year to Transy's campus as part of Pioneer Pathway, Transylvania's college empowerment program that helps first-generation and other traditionally underrepresented students connect with college. President Carey, who is now president of Iona College, wants them to see that their struggles may not be so very different from his own. They too belong here and can succeed in college.
Opportunity Gap
Pioneer Pathway, now in its third year, got its start when Transy answered the call from teachers in Woodford County who had identified the need for a program to help underrepresented boys gain access to college. Guided by Serenity Wright '05, Transy's former associate dean for diversity and international student experience, it has grown to include students from five schools (Bryan Station, Henry Clay and Dunbar in Fayette County, and high schools in Woodford and Scott counties), thanks to the generous partnership of the William R. Kenan Charitable Trust.
The program fills an opportunity gap for students who have the academic capacity but often lack the information, resources and support to help them through the daunting application process. Other students need the Pathway experience to help them understand which college is right for them.
Before Pioneer Pathway, I was lost on where I was going for college. Now I know where I'm going and what to expect.

Solomon Murray, senior at Henry Clay High School, future Pioneer
Because of the Kenan funding, the program offers several visits to campus each year during which students work with faculty, staff, students and members of the Transy community, taking part in mock interviews, improving their application essay and résumé, sitting in on a college class, learning the ins and outs of financial aid and even, says Isaiah Cordray, "how to dress, walk in and have a firm handshake." He's a first-year student at Transy, continuing on his path from Bryan Station to a future in information technology.
During the mock interviews, students learn how to translate their personal stories into scholarship interview material. In the process, they begin to see themselves differently.
One senior, for example, had scored the winning goal for his soccer team, never mentioning to anyone that he'd broken his arm within the first few minutes of the game. During his practice interview, he was coached from the sidelines: "Talk about commitment and determination," Wright urged him. "Use that story to talk about who you are."
Heather Eppley, the director of the information technology academy at Bryan Station High School, lauds the program and Transy's role as a partner. "A lot of my kids don't have the resources or family support or knowledge of the college application process," she says. Eppley sees a big difference in the confidence level of the students who are in the Pathway program. "They know that college is attainable. They also know they can reach out to people at Transy, regardless of whether they are applying there or not."
Being on campus and sitting in on a class can be life changing. Sarah Shofner, a senior at Bryan Station, says "it opens a lot of doors because you're able to determine what you want to see in a college."
Shofner remembers the surprise of her classroom experience: "I thought it would be in a big auditorium, but no, they were in this small classroom." She realized how different it was, "having a teacher almost to yourself—to be able to ask questions and discuss properly." She knew she wanted a college like Transy. This fall, she and her twin sister will become Pioneers.
Peer Power
Assisting in the campus experience are 10 Pioneer mentors who are assigned eight mentees for the year. They work with their younger peers, but they also get to network with community leaders as a way to identify pathways to their postgraduate life. The experience gives them a chance to develop as leaders.
This program gives these students access to places they've never seen and things they've never done… We want them to have the right information and opportunities to make the right choice.

Johnnie Johnson, Director of Multicultural Recruitment and Operations
"For Eder Sosa '19, who grew up in a troubled neighborhood in Santa Ana, Calif., uncertain of whether he'd live to see the next day, college became a goal at the age of seven—the only projection of a future he allowed himself. Mentoring taps into his innate desire to help people. (He graduated from high school with 400 hours of community service.) He says it brings him joy. Connecting with young people from backgrounds not so different from his own has also helped him adjust to his new environment at Transy.
"I like to help them out by giving them the resources they need," he says. "I felt I was in that same position–feeling lost, alone. I didn't know what to do, couldn't relate to anybody." He adds, "And it's fun to talk with someone in Spanish, in your own language, and just relate."
College mentors are offered a stipend for their work. Sosa declines his.
Sosa is a reassuring force, open, friendly and caring. The son of Mexican immigrants, he's developed his own philosophy of identity politics. When a young woman stutters on her name, he says, "Don't double think what you are. Say your name the way it's supposed to be pronounced. Be you."
Sosa's mindset has opened a lot since coming to Transy and getting to know the stories behind kids whose backgrounds are so different from his own.
"By comparing my struggles with the people here at Transy, I've realized that we're all the same," he says. "We're all looking to get a better future. We just take different courses or have different obstacles in getting there."
Always Learning
"In a lot of ways these kids are more mature than us adults," says Johnnie Johnson, Transy's director of multicultural recruitment and operations. "They get it. They don't care about the superficial lines that are being drawn by adults. These kids were raised differently, they see things differently and they want a better world."
For Johnson, who helped initiate the summer camp component that includes a college fair (the first of its kind in Kentucky), Pioneer Pathway is about creating opportunities and removing both real and perceived barriers.
"Historically, Transylvania has not been a school for underrepresented populations," he notes. "For us to break down some of those walls, stereotypes and history for them, they just need to be on campus and recognize this could be a place for them for their college career."
Like many other institutions, Transylvania has set goals for building a more diverse population of students, faculty and staff. But to accomplish this, Johnson explains, "you've got to put a name and a face out there and put some money behind it. Pioneer Pathway does this." Even if a student doesn't eventually attend Transy, the reputation of the institution grows and its relationship with the community is strengthened.
"Transylvania understands its place not only in Lexington, but in the world of education," Johnson says. After 237 years, it's still learning and leading by creating programs that provide new and inclusive pathways to education.
For our democracy to work, everyone needs access to education, Carey notes. "I see Pioneer Pathway as a part of our role as citizens," he says, gratefully acknowledging the support and shared responsibility of Transy's community partners. "It's giving students the hope that they can do this for themselves."