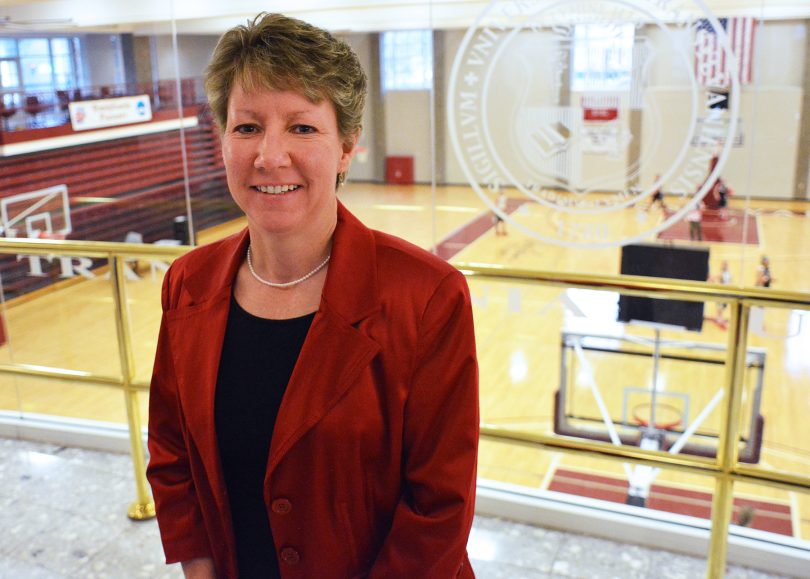 President Seamus Carey has named Holly Sheilley as the vice president for athletics at Transylvania University. Sheilley, who in 2013 became the first woman to serve as director of athletics at Transy, has continued in that role while also serving as vice president for enrollment and student life since 2016.
As vice president for athletics, Sheilley will continue to oversee the successful Pioneer sports program, comprised of 27 NCAA Division III teams. The athletics program is integral to the university's educational mission – just under half of Transy's students participate on at least one of the Pioneers' intercollegiate teams. Since 2004, the Pioneers have had more than 500 student-athletes recognized with academic all-conference selections.
Indicative of the program's success, Pioneer athletics wrapped up the 2018-2019 academic year with 109 all-conference award winners, eight teams that made national tournament appearances, eight conference players of the year, five coaches of the year, and Transy winning the Heartland Collegiate Athletic Conference's Women's All-Sports Trophy award for the highest cumulative amount of placings across all sponsored conference sports.
Transy received an NCAA Division III Diversity Spotlight Initiative award in March for connecting more than 150 current female student-athletes with female coaches, staff and faculty who are former collegiate student-athletes. Transy athletes also participated in the NCAA's Diversity and Inclusion Week in October 2018 and Division III Week in April 2019.
Sheilley holds a Ph.D. from the University of Louisville, where she served as the assistant athletic director for championships and student development. Prior to joining Transy, she served as the assistant director of championships for the NCAA. As Transy's vice president of enrollment and student life, she has overseen a sustained effort by the university to diversify its student population and foster an inclusive campus environment.
An announcement on interim appointments to oversee enrollment and student life is expected in the coming days. Sheilley will begin as vice president of athletics on July 1.