Growing up in Cincinnati, Transylvania University senior Abby Cullen couldn't quite put her thumb on what she wanted to do with her life. "That unsettled me," she admits. But she hoped to work for the consumer.
"I knew that, as a business person, I wanted to ensure that the customer was being respected and represented, and that their voice was always something in the back of our minds," she explains. At the same time, she wanted the business to be successful. She just wasn't sure how to "encapsulate it."
Although anthropology might not be seen as a traditional major for someone interested in business, Cullen says the discipline has helped her develop "very pertinent skillsets that apply to business fields." She has made connections between the broad, structural theories she's learned in the classroom and how to think about them in the context of the relationship between business and consumer.
"I don't think I had an a-ha moment as I was signing up for classes," Cullen says, reflecting on how pursuing her interest in anthropology made her a better business job candidate. "It was more just being in class and seeing how these things actually connect pretty well. Not in the classical sense of being in a business class and talking about HR and diversity, but thinking about a cost analysis and how it is going to affect our consumer long-term, and how is it going to affect our quality." Indeed, her ability to bring a new perspective to a business setting has helped her stand out to employers.
On campus, Cullen's combination of academic interests isn't unusual—with a major in anthropology and minors in writing, rhetoric and communication and interdisciplinary business. Nor are the many opportunities to secure internships and jobs.
Ultimately, having access to experiential learning is what drew Cullen to Transylvania. She says she knew that internships would be important for her career goals, so she sought a college that could provide access to everything that a city has to offer. As it turns out, Cullen found that experiential learning was some of the most important education she received at Transy. It's also part of a larger process of complementary elements that helped her build the skills, experiences and networking ability that were necessary in securing her first job out of college.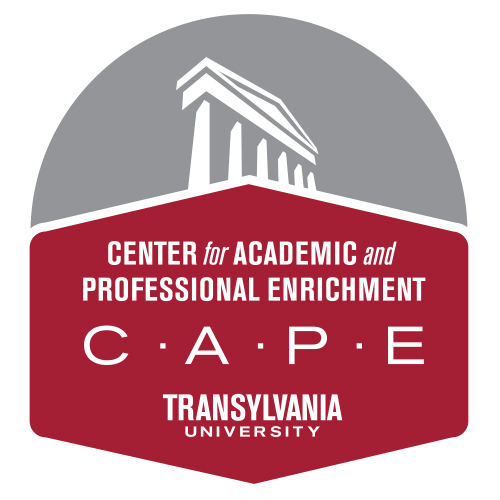 Cullen remembers being an "eager" first-year student. That means she took advantage of every possibility that Transy afforded. In her first semester, she enrolled in the 100 Doors to Success mentoring program, gaining the support and guidance of professionals, and began working with Career Development, embracing their adage: "If you're not networking, you're not working."
She took part in in the Tempur Sealy leadership program and, through the Transy network, was offered a job with the local accounting firm, Besten & Dieruf PLLC, where she was able "to take what we talked about in the classroom and see it in a real world context."
On campus, Cullen worked for First Engagements (helping first-year students get acclimated to Transy), as an admissions ambassador (learning how to present herself and the university) and for the Henry Clay Center for Statesmanship (working with data and organization). She learned to be comfortable conversing with different groups of people—something she took with her into job interviews and informational meetings.
"I always like to stress the internships. I've had a lot of great opportunities just from being a Transy student."
By the start of her junior year, when she applied for a 10-week internship with Fifth Third Bank in Cincinnati, Cullen remembers one of the people looking at her resume and saying, "You've done all of this in three years?"
"It's one of the best parts of going to a small school," Cullen notes. "You can take on so much."
During the on-site interview with the bank, Cullen quickly emerged from the typical pool of candidates as they introduced themselves. People were intrigued by her background and had lots of questions, she recalls. "How does my discipline fit here? Why does my perspective matter?"
She replied, "Truthfully, that's where it starts. It is the fact that I'm going to look at a situation pretty differently than you are from your operations standpoint, because we're going to come at the problem from a different perspective."
Cullen was selected and thrived during what she calls a 10-week-long interview for the full-time job she was offered in the autumn of her senior year. She used the time to learn from as many people within the bank as possible. It's an approach she plans to continue as she decides on the type of master's degree she will eventually pursue. Not content to rest on her laurels, she says that graduating into a job, "is pretty invigorating." She wants to keep the learning and momentum going.
"I have learned so much in the classroom, I've worked hard building my resume and my experiences. I've had to earn it myself, but Transy made it easier. Whether it be Tempur Sealy or Fifth Third Bank or Besten & Dieruf, I know there is a Transy influence somewhere, through a person or with Career Development behind me, who has opened that door.
"As a freshman, I came in so eager," she recalls, thinking back on her four years at Transy. "And then to feel that it paid off is awesome."