Janelle Johnson Roberts '10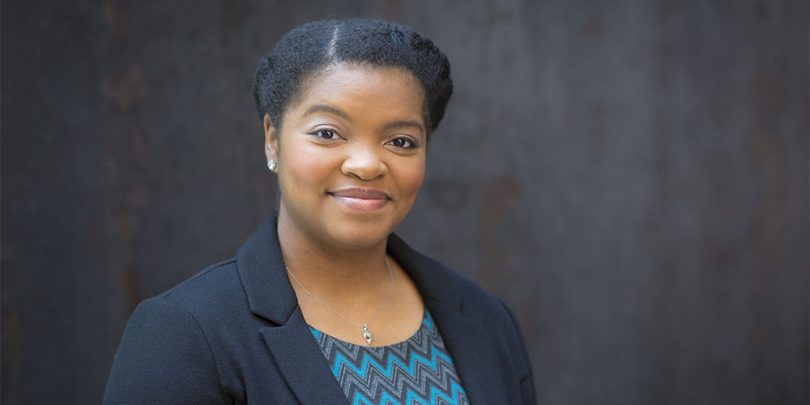 Any Transy student major in international affairs today, but when Janelle (Johnson) Roberts '10 pieced it together as a self-designed major in 2007, she had in mind a more specialized version of the traditional political science major.
International affairs had been on her mind since middle school, when she found herself frustrated by the divisive rhetoric about the Middle East after the September 11 attacks. Her best friend's family was Iranian, and she was already developing an affinity for the culture and its people.
As she explored the political science curriculum, she kept being drawn by other areas, including anthropology, sociology and religion. So she developed a curriculum with her professors and took Arabic language courses at the University of Kentucky, all to prepare herself for a career in Middle East policy. She studied abroad for a semester in Amman, Jordan, and did a seminar on the Arab-Israeli peace process in Washington D.C.
"I was 100 percent certain I would have a career in foreign relations or foreign affairs," she says. "I knew I needed experience abroad, I knew I needed language training. I was incredibly grateful that Transy encourages their students to broaden their horizons. Everyone was so helpful, from Jeff Fryman and Kathleen Jagger to the study abroad office to the financial aid office."
Roberts went on to the University of Chicago's Harris School for Public Policy Studies, earning a master's in public policy, and she received a fellowship with the Congressional Black Caucus Foundation, working with Congresswoman Karen Bass (D-CA) and then the Senate Foreign Relations Committee, where she advised Chairman Bob Menendez on sub-Saharan Africa during a time when there was conflict in the Central African Republic and a war in South Sudan.
Once her fellowship ended, she was hired full time before taking her current position at the Simon-Skjodt Center for the Prevention of Genocide at the U.S. Holocaust Memorial Museum. She is a policy assistant with the center, working to prevent mass violence against civilians, educate the public and correspond with policymakers in the U.S. and abroad.
"I went to Capitol Hill thinking I wanted to work exclusively on U.S. policies pertaining to the Middle East, but that's not how it ended up," she says. "The curiosity that Transy encourages its students to have about a range of topics has helped me in every role I've had since graduation. The ability for me to say, 'Here's what I want to do,' has definitely helped me."