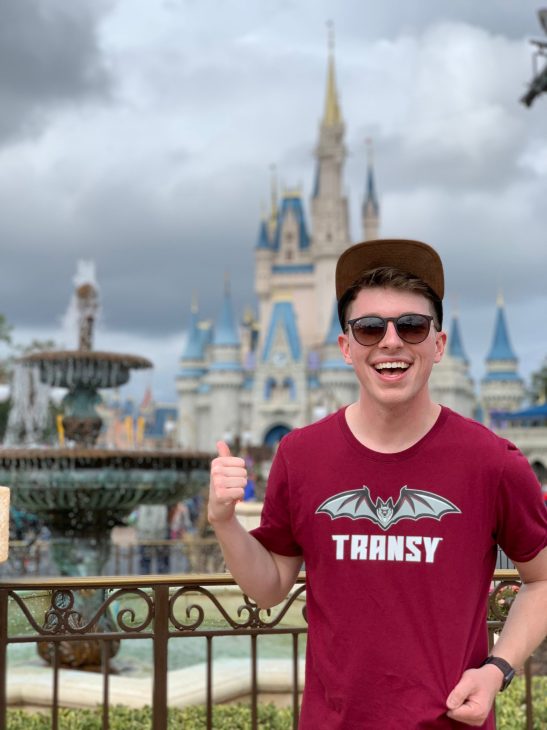 When he was a 4-year-old visitor to Disney World in Orlando, Florida, Skyler Slone '15 made a life-defining connection that would come full circle when he graduated from Transylvania University. In that moment when Mickey Mouse, happily dancing with a parade of characters, pointed directly to him, he felt the power of live entertainment and its ability to make people feel special. He knew he wanted to do the same for other kids one day.
A native of Hindman, Kentucky, Slone began his acting career with the Jenny Wiley Theatre in Prestonsburg when he was 9 and cast in the first audition he ever took. Twenty productions later, he arrived at Transy to major in theater and philosophy, politics, and economics (PPE). He thought he might want to pursue entertainment law.
Over the next four years, Slone learned every facet of theater. "Because entertainment is such a competitive world," he says, the department "wanted to prepare us for everything." In his senior year, Slone directed "The Laramie Project," developing another skill set and awareness for a creative interest he hopes to pursue in the future.
Slone says that Transy revealed to him how a liberal arts education works and how "all-encompassing" it is. Instead of focusing on just philosophy or theater or math, "it's how all of those things integrate and work together," he explains.
"The experiences I had both in and out of the classroom, engaging with people from different backgrounds, talking about world issues, seeing the interplay between the different subjects—it is something that is invaluable to a person's academic and personal growth." Slone recognizes how well-rounded he is as a result. "Someone who has all these different skills can apply them to anything they pursue."
At Transy, Slone made the most of being in Lexington, interning for a political campaign as part of his PPE major and working for a theater production company. He notes that it was Lexington's "perfect blend of rural and urban—with exciting energy and opportunities" that was part of Transylvania's combination of attractions.
"The location, the small class size, the ability to connect with such a diverse student body, professors who genuinely invest in you and your wellbeing, and the opportunity to make an impact—that's what I think sets Transy apart," he reflects. "It's one of the best things you can do for yourself."
After graduating, Slone joined the Disney College Program as an intern working in operations and studying entertainment development. He then realized his dream of becoming a performer for Disney Parks Live Entertainment in Orlando, completing the circle and promise to his 4-year-old self. Now he's been selected by Disney to perform in Tokyo, Japan.
As he embarks on his new adventure, he invites all prospective Pioneers to "take that adventurous step to a place that will prepare you to be successful in the world—not just in one subject, but in whatever you choose to do."