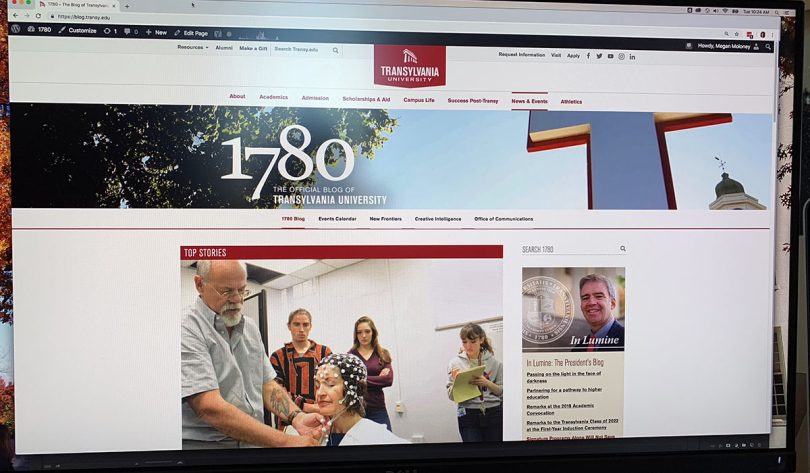 Finding the latest news and event information about Kentucky's first university just got easier with the launch of 1780, the official blog of Transylvania University.
Online at www.transy.edu/1780, 1780 curates articles on events at Transylvania, provides admissions advice, publishes news releases, and is the host site for In Lumine, President Seamus Carey's blog.
"We want to make it easy for alumni, students, faculty, staff and our community to find out what's happening at Transylvania," said Megan Moloney, vice president for marketing and communications. "Now, when you visit our website, the latest news is just one click away – either from the 1780 news ticker on the home page, or by clicking on 'News & Events' from any page on transy.edu."
Named after the year Transylvania was founded, the blog features several sections that highlight various topics, including top stories, news from Transy, the Admissions Insider, recent posts, and articles on events that are part of the New Frontiers season. The 2018-19 season focuses on Transylvania's year-long campus theme – civility – and invites the community to go beyond the familiar to explore ideas, art and music on Transy's campus.
"Creating a platform to communicate with our community online complements Transylvania's efforts to apply digital technology to our liberal arts curriculum," Moloney said. The university's Digital Liberal Arts initiative launched in 2017 to teach students how digital technologies affect the world of today and tomorrow.
Since its soft-launch in September, 1780 has generated 50 percent more page views on the transy.edu website than the previous news section. Articles are also more easily shareable on Facebook, Twitter or Linked In via social-share buttons at the end of each story.
To visit 1780, go to https://www.transy.edu/1780/.