LEXINGTON, Ky.—Richard Taylor, Transylvania University's Kenan Visiting Writer and a former Kentucky poet laureate, has received the Thomas D. Clark Medallion for his new book, "Elkhorn: Evolution of a Kentucky Landscape."
Named after the founder of the University Press of Kentucky, the medallion is awarded to one book each year for highlighting the state's history and culture. "Elkhorn" is published by the University Press and will be released on Sept. 21. 
"I'm honored to be a recipient of an award named for Dr. Clark, whom I knew and greatly admired for his writings, his character and his encouragement of others to look into the deep but shimmering well of Kentucky history," Taylor said.
He will receive the Clark Medallion at the Paul Sawyier Public Library in Frankfort on Wednesday, Sept. 26.
"We owe a debt of gratitude to Richard Taylor and other top scholars and writers published by the University Press of Kentucky," said Stan Macdonald, a board member of the Thomas D. Clark Foundation. "They are enabling citizens to gain a much deeper understanding and appreciation of the state's rich history and culture."
Taylor lives in a historic home he restored near the banks of Elkhorn Creek, a tributary of the Kentucky River. He writes about an eight-mile stretch of the creek in "Elkhorn."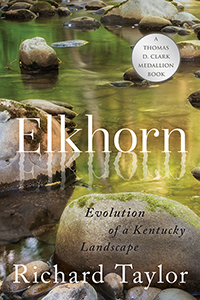 "Through his love of Elkhorn Creek and his gift with storytelling, Taylor presents readers with a powerful picture of a place that has impacted so many and served as a touchstone for Taylor and others like him," according to University Press of Kentucky. "His adoration for the land and desire to preserve it and its history are hypnotic in their intensity."
On Tuesday, Oct. 23, at Transylvania, Taylor will give a reading from "Elkhorn." The event, sponsored by the Thomas D. Clark Foundation, will be held in the Cowgill Center for Business, Economics and Education, Room 102 at 5:30 p.m. The reading is open to the public.
Taylor earned a B.A. in English from the University of Kentucky in 1963, an M.A. in English from the University of Louisville in 1964, a J.D. from the University of Louisville School of Law in 1967 and a Ph.D. in English from UK in 1974.  His other books include "Sue Mundy: A Novel of the Civil War," "Girty" and "Earth Bones."