Bill McCann '79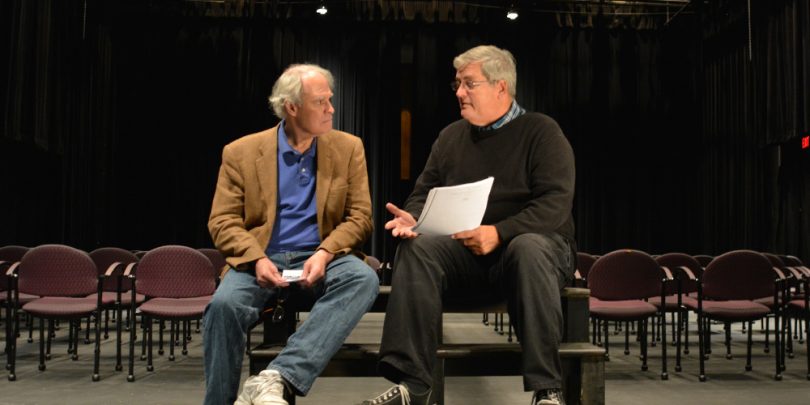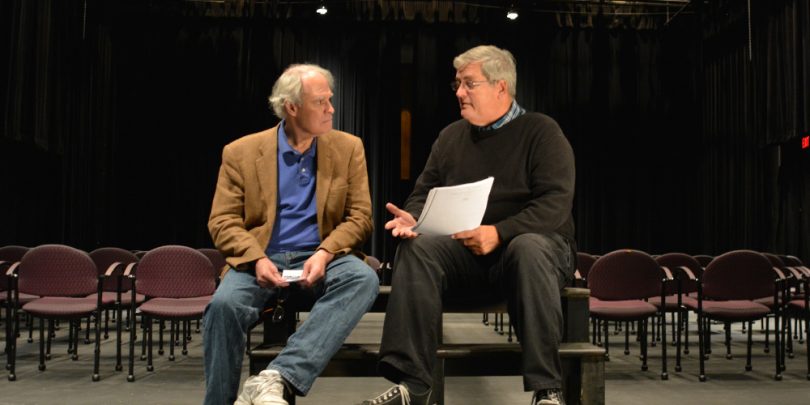 We talk a lot about the Pioneer network, lifelong connections and how Transy has your back long after graduation. Ask Bill McCann, Class of 1979, and you'll find a specific example of how that generous faculty-student connection works even decades after graduation. In Bill's case, it's with a faculty member he didn't even know as a student. But that didn't stop him from asking for help.
McCann has always loved the theater and held a deep interest in playwriting. "Theater is another way of looking at the world," he says. "It's a way of getting people to think about things they might not otherwise think about, in ways they wouldn't have thought of before." He began his career at Transy as a theater major, but, at his father's urging, changed his academic focus to history. 
After Transy, he worked for a defense contractor in D.C. and earned a degree in education. He returned to Kentucky to work for the Department of Education as a financial management consultant for school districts, helping with everything from budgets to bidding practices. He was always observing and sharing best practices.
Then, as he was passing through mid-life, he asked himself what he really wanted to be doing—"and it was to write plays and do theater." He decided to earn a master's in theater at the University of Kentucky. "I'd always been involved with theater," he adds, "I'd tried and struggled to write plays for many years."
After graduating from UK, McCann was asked to work on a skit about Alzheimer's disease that staff could use at a human resources conference and to include the humor that is so often overlooked. The idea took hold of him and, after completing his work for UK, he began a multi-year journey toward finding the best way to express the character and the story in play form.
"If you're a playwright, you work by yourself," McCann explains. "It really helps to get someone's feedback." McCann says he was in his forties when he first contacted Tim Soulis, a professor of fine arts at Transy and asked for his help. Soulis didn't hesitate, McCann says. "He's been reading, editing and talking through my plays ever since."
"A good question can really open up different possibilities for you. And Tim is good about asking the questions…In many ways, the play wouldn't exist without him."

Bill McCann '79, playwright
The most recent version of "Boats Against the Current," has just been given a workshop performance in Somerset by Flashback Theater. The semi-professional troupe is talking about a possible full production in the spring of 2019.
"The current version is very much a nontraditional play," McCann says. "It's Alzheimer's as experienced by the person who has the disease. I guess you'd call it an interior play, interior to his mind. The audience sees what he sees. If he's not on stage and witness to something, then it's not in the play."
Finding the right perspective is what made the play work for McCann. He says he found the answer in a student production he saw at Transy in 2016. Something about that play, he says, made him realize, "I'd got it all wrong. I'm trying to do a traditional play and it needs to be an interior play; it needs to happen in this guy's head." He rewrote the play in six days, sent it to Soulis for his feedback and then made more changes.
"A good question can really open up different possibilities for you. And Tim is good about asking the questions," McCann explains. "He's been very helpful in that whole process," McCann says. "Over the last seven years he has read a dozen versions. In many ways, the play wouldn't exist without him."
McCann actively passes on that mentoring spirit. He teaches remedial English and theater at the Bluegrass Community and Technical College, helping students construct thoughts into paragraphs. And he is devoted to nurturing, connecting and putting Kentucky playwrights on the map. It's become his mission.
In the past several years, he has helped found the Kentucky Playwrights Workshop, organized public outlets for playwrights at venues like the Kentucky State Fair, hosted "Kentucky Plays Today," an internet television program, and compiled and published "The Kentucky Theatre Yearbook."
With his partner, Jeanine Grant Lister, he has edited and published a collection of plays by prisoners, "I Come From: A Voices Inside Anthology," drawn from the prison outreach program of the Pioneer Playhouse that works with inmates at the Northpoint Training Center near Danville, Kentucky. Nine of the 14 plays were staged by BCTC graduate Ian Scott and Antagonist Productions.
McCann knows the power that theater has to change how we perceive the world and each other. For inmate playwrights released in time to attend that local production, "it was a way for them to reconnect with their families," says McCann. "It allowed their families to see them in a different way than they'd been seen before; they weren't criminals, they were playwrights. And for some of them that really changed the perception of the family members. So it was very good."
These are fruits of the Transy network fully realized. It's there for the asking.