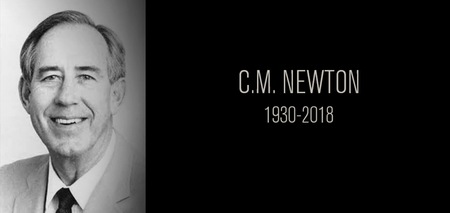 Lexington, Ky. – Legendary coach and administrator C.M. Newton, a Transylvania Athletics Hall-of-Famer, passed away on Monday at the age of 88.
Revered as a pioneer and monolith in collegiate athletics, Newton's career spanned over five decades and began at Transylvania University as the men's basketball coach in 1951.
While he was known by many as an athletic administrator at multiple institutions, including the University of Kentucky, and a fixture in NCAA basketball, Newton's legacy transcended his title and location.
"Newton's influence as a coach and an administrator was undeniable," said Transylvania Vice President for Enrollment and Student Life, Dr. Holly Sheilley. "He was instrumental in breaking down racial barriers for players and coaches."
"Coach Newton was one of the classiest men in college sports," stated 17th-year Transylvania men's basketball head coach Brian Lane on his predecessor's passing. "Every day when I sit in my office, I have a picture of Coach Newton behind me on the wall to remind me how important the coach-player relationship is. He started his career at Transylvania but he never forgot his roots. I will always cherish the day he asked if he could come by to talk a little bit."
Newton's legacy of leadership and service included the recruitment of the first African-American players at both Transylvania and the University of Alabama and later the hiring of the first African-American coaches at the University of Kentucky in Tubby Smith and Bernadette Mattox. In the latter stages of his career, Newton guided the Kentucky athletics program through a turbulent time into its most robust era in school history.
Newton's path began in Lexington where he played under Adolph Rupp on the University of Kentucky men's basketball team and on the Kentucky baseball team before going on to join the New York Yankees minor league system.
Over three separate stints from 1951 through 1968, Newton coached the Transylvania men's basketball program for 12 seasons before moving on to the University of Alabama to coach the Crimson Tide for a 12-year tenure to a record of 211-123.
Following a successful era at Alabama, Newton spent a stint as the SEC assistant commissioner before assuming head coaching duties at Vanderbilt from 1981 through 1989, guiding the Commodores to five winning seasons.
During the 1980s, Newton was a part of other transformative changes in basketball, serving as manager for the 1984 US Olympic basketball team which won gold in Los Angeles, and serving as an NCAA Rules Committee member when the three-point line and shot clock were implemented in college basketball.
These experiences preceded Newton's reign at Kentucky as the athletic director in 1989 through 2000, an era which witnessed an expansion of facilities, exponential revenue growth, the addition of multiple varsity sports to the university's offerings, and two men's basketball national championships in 1996 and 1998.
Newton was named the Athletic Director of the Year by National Association of Collegiate Directors of Athletics in 1999 and was inducted into the NACDA Hall of Fame in 2017. He was inducted into the inaugural Transylvania Athletics Hall of Fame class of 1992 and the Naismith Memorial Basketball Hall of Fame in 2000. He also belongs to the Kentucky Athletic Hall of Fame, the University of Kentucky Athletics Hall of Fame, the UK College of Education Hall of Fame, and the Ft. Lauderdale Sports Hall of Fame.
Added Lane: "Our thoughts go out to the entire Newton family on the loss of such a wonderful gentleman."