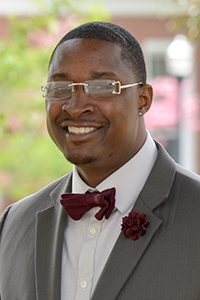 Taran McZee joined Transylvania University May 1 as associate vice president for diversity and inclusion, serving on President Seamus Carey's cabinet. He has spent nearly 15 years leading diversity, inclusion and equity efforts in higher education, and Transylvania is thrilled to bring his experience to campus.
What drew you to Transylvania?
I was chosen to participate in the National Association of Diversity Officers in Higher Education's (NADOHE) first Standards of Professional Practice Institute. It was a four-day curriculum developed by the top vice presidents and chief diversity officers across the nation. I was learning from some of the top inclusion and equity people in the nation, and after my four days, I was told by three of them that I'm ready to be a chief diversity officer. I told my mentor that if I got the opportunity to go to a private liberal arts institution, I was going to look into it.
Two things stuck out to me about Transy: Project One, and the fact that this was an inaugural position. I have the opportunity to shape diversity, inclusion and equity for the institution with the help of faculty, staff, administration and students. I have the opportunity to shape it from what I've learned the last 15 years in higher education doing diversity, multiculturalism, LGBTQA and equity work.
What have been your first impressions?
It's a beautiful campus. There's genuine southern hospitality. And overall, people want to see student success, from faculty to administration. They're very student focused, which is awesome. This is a true liberal arts institution. 
Since I've been here, people have been excited. I've only been here six days, but somebody new peeks into my office (Campus Center 133) every hour just to meet me.
What does diversity, inclusion and equity mean to you?
Diversity, inclusion and equity means acceptance, respect and compassion for all people. It's more about creating a space of safety for you and others to be seen, heard and accepted. This allows everyone to have their needs met so that everyone has access to the same opportunities.
How do you view your role in Transy's diversity and inclusion efforts?
This is my dream job. Transy has allowed me to dig my heels in the dirt and create some institutional roots. I haven't been at an institution more than five years, and I see myself here beyond that because of the position I have. I'm not an expert—I've been around the block a couple times—but I am a lifelong learner. Every day I learn something new in the realm of diversity, inclusion and equity. I'm very confident in myself and the work I'm going to do here. 
One of the first things I've been asked to tackle is revamping Project One. From what I've seen so far, it has great intentions, and now it's time to take the next step. I'm thinking diversity training, dialogue sessions on campus for faculty, staff and students. I want to connect Project One to MLK Day, Black History Month, Hispanic Heritage Month and Trans Remembrance Day. I'm thinking about cultural competency training, social justice training and programming. But right now, I'm doing my research into why it was created and how can I move the needle a little further. 
How is Transy set up for success in diversity and inclusion efforts?
If Transy weren't serious about diversity and inclusion and equity, my position would never have been created at the cabinet level. That's a huge deal. That's going to set Transy apart from schools like ours. This is why the new strategic plan will be key moving forward in Transy diversity and inclusion efforts. Transy does have some things in place already in order to be successful in diversity work. We have a director of multicultural recruitment who has been very successful, we have an assistant director for international recruitment, our student body is 16 percent students of color—these are things off the top of my head.
Why is this position so important to educating students?
I think diversity and inclusion is a huge component of our students' experience here. We're a liberal arts school. You're supposed to get a little bit of everything. If we don't prepare our students for a forever-growing global society, then we're doing them a disservice. I want Transylvania to be the private liberal arts school that every other school looks to and says, "They're doing diversity and inclusion right. Let's mimic what they're doing." And that's going to take some time, and I'm OK with that.
We all know about freedom of speech, but there's a right and wrong. There are consequences. If a student shows implicit bias, we're not here to expel them; we're here to educate them. So let's help students understand where they're at. If they're not at a place ready to have a conversation about cultural competency, then let's provide that. Let's get students in the room to start learning and understanding. You're not going to change every mind, but if you change one, then you've done your job.
A lot of people are waiting to see what I'm going to do. And it's starting this summer; I'm starting conversations on inclusion and equity with staff and administration. I'm a huge proponent of bringing people from the outside to teach us. I don't want it to all come from me. Let's get some scholars on campus to talk about this. And I'm going to tie it all to Project One. 
How can people help you?
All I ask is for support and to try and be involved. I'm not asking for a lot. Just be open to some of this. For our students who don't have a lot of experience with diversity or haven't been exposed to different cultures, this is your opportunity to get involved and to continue to educate yourself. Come talk to me. Let me get you involved.
Education
M.A., Educational Administration and Community Leadership, Central Michigan University
B.S., Sociology (Criminal Justice Concentration), Central Michigan University
Involvement
National Association of Diversity Officers in Higher Education
NADOHE Standards of Professional Practice Institute Planning Committee
African American Student Leadership Experience Board
John D. O'Bryant National Think Tank Scholarship Chair
National Association of Student Personnel Administrators
Specialized Training
NADOHE Standards of Professional Practice Institute Certificate of Achievement
Inside Leadership, Grand Valley State University
Title IX Investigation Training
Intercultural Dialogue Training, University of Michigan
Inclusion Advocate Training, Grand Valley State University
Queer & Trans 101: Training Allies, Grand Valley State University
Supervisor Academy, Northern Arizona University
SafeZone Training, Northern Arizona University