LEXINGTON, Ky.—Kentucky author Kathleen Driskell has won Transylvania University's 2018 Judy Gaines Young Book Award for her collection of poems, 'Next Door to the Dead.'
Driskell will give a reading and receive her award on March 21 at 5 p.m. in Transylvania's Cowgill Center, Room 102. The event will be free and open to the public.
Now in its fourth year, the Judy Gaines Young Book Award recognizes recent works by writers in the Appalachian region.
Driskell found inspiration for her book while visiting a cemetery next to a former country church where she lives outside Louisville.
Transylvania professor Jeremy Paden praised her work. "In 'Next Door to the Dead'​ Kathleen has written eloquent, gripping, tender and even humorous poems that explore loss and longing," he said. "This is a wonderful collection of poems that have much wisdom and art to teach the reader. Death can pull us apart; it can bring us together."
According to the book's publisher, University Press of Kentucky, Driskell often strolls through the cemetery, imagining the lives and loves of those buried there. "'Next Door to the Dead' transcends time and place, linking the often disconnected worlds of the living and the deceased. Just as examining the tombstones forces the author to look more closely at her own life, Driskell's poems and their muses compel us to examine our own mortality, as well as how we impact the finite lives of those around us."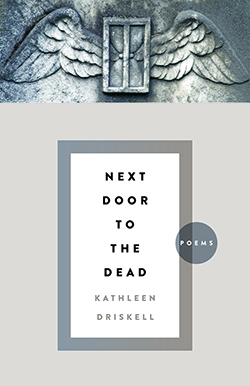 Driskell is a professor of creative writing at Spalding University and associate editor of the Louisville Review. Her numerous books and collections include "Laughing Sickness" and "Seed Across Snow."
Driskell will be introduced by this year's judge, Jason Howard, editor of Appalachian Heritage at Berea College.
This is the fourth year for Transylvania's annual book award, which is funded by Byron Young, who graduated in 1961, in honor if his late wife Judy Gaines Young, a '62 graduate.
The award comes with a cash prize, and a signed copy of the volume will be preserved in the Transylvania Special Collections.
Along with this honor, the university each year presents the Judy Gaines Young Student Writing Award. The 2018 winner is senior Laura Daley, a double major in writing, rhetoric and communication and Spanish with a creative writing minor. She also will read from her work at the March 21 event.
A reception and book signing will follow the ceremony.
The Cowgill Center is in Old Morrison Circle off West Third Street. Free, nearby parking is available.