Kelly Kreutzjans '16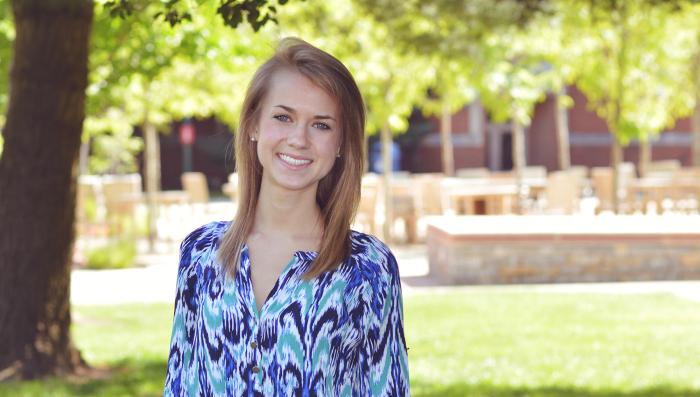 Recruiters from Deloitte, a "Big Four" accounting firm, first noticed Kelly Kreutzjans' ability to socialize and connect with people at an industry networking event. They liked her résumé, too. It demonstrated her ability to multitask—playing soccer and taking on big offices in her sorority while making good grades.
The complete package
Social skills
Broad knowledge
Time management skills
Academic excellence
---
Kelly Kreutzjans '16 offered her future employer the complete package: a broad liberal arts background that gave her confidence and the ability to engage people on different subjects, evidence of good time management and excellence in the field of accounting. She'd already interned with a CPA company in Lexington.
"Our teachers know us. They always make themselves available for us. Anytime you need something, there's someone you can talk to—or they'll find it for you."If you're new to the workforce, "soft" skills top the list of essential traits that employers seek. It's these skills (being well rounded and socially adept), along with academic achievement, that set Pioneers apart.
Kreutzjans says that Transy helped her in ways she didn't expect. "It built my confidence," she explains. "The teachers in the accounting department were great." They encouraged her to attend industry events and were available to her whenever she needed help.
"And the liberal arts made us really well rounded," she explains. "I can talk to people about things that aren't just accounting or business because I've taken music, history and biology classes—classes I never would have thought to take and I don't think many of my other friends would have taken." It made her successful in social situations like the industry event. "Different conversations come up and I feel comfortable giving my input."
Deloitte recruiters took note. They invited Kreutzjans to dinner, offered her a summer internship and, ultimately, a full-time job in their Cincinnati office.
Transy made us really well rounded. It gave me the knowledge and information to do the work, and it also gave me the people to encourage me to do it.