Transylvania Women's Basketball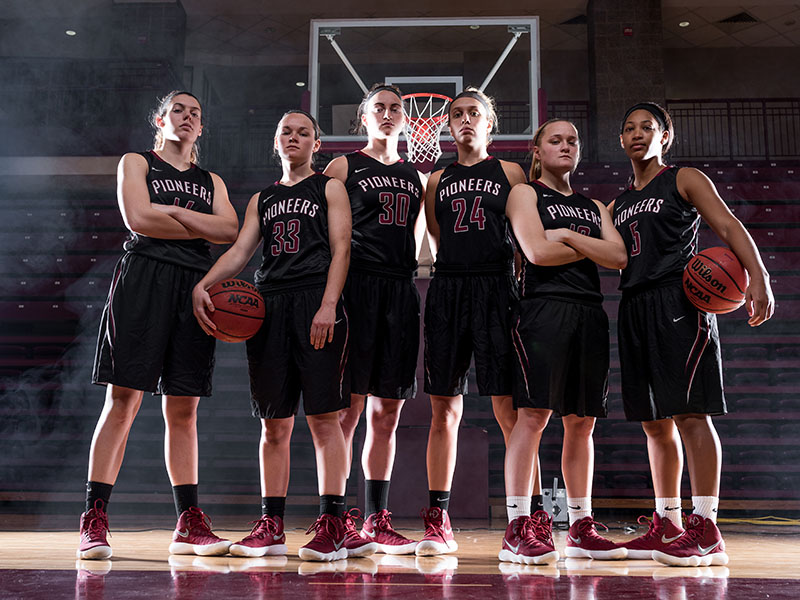 Try to picture a basketball player at the pinnacle of success.
Multimillion-dollar shoe contract. Flashy cars. Autographs. Ego.
Of course not all successful basketball players are like this. In fact, members of Transylvania's women's basketball team strive not for individual glory but for humility and generosity.
Coach Juli Fulks drills into her players' heads this culture of giving, which she sees as necessary to the game as shot blocking and lay-ups.
Fulks goes around to every player as they stretch to get ready for each Monday's practice, and she asks them to talk about how they've served others during the past week.
And it's not just the players who are expected to give of themselves. It's a top down thing—the coaches serve the players just as the seniors are asked to serve their younger teammates, and so on. "We are not the program that expects the freshmen to come in and do the laundry," Fulks says. "The core fundamental of our team is servant leadership."
This ethic is most evident with the team's many community engagement efforts—whether they are teaching basketball skills to youth at the YMCA, playing a game with Special Olympics athletes or spending an afternoon at a local retirement home.
Perhaps less evident is how being servant-leaders helps them win games. "I think team culture is the number-one factor in being able to win high-level championships," Fulks says. "And you can't do that without having a culture that puts the team first."
Say one of her players finds herself with an open shot—but then realizes a teammate with a hot shooting streak is also open—she needs to be OK with passing instead of shooting. And that can be a tough thing to do with the crowd cheering you on in the heat of a tight game.
Senior guard Sarah Ashley says a big part of her team's offense is knowing who should take the shot and getting them the ball in the right place. "Ultimately, I'm a part of the team and it's a team sport. I'm not there to get my points. I'm there to get my team points."
Being a good teammate goes beyond dishing out a crisp pass to the perimeter so somebody else can sink a three. It means keeping your head in the game— which in itself is a form of generosity because giving your attention, being a good listener, are selfless acts.
The Pioneers drill this like some teams run through Xs and Os on a chalkboard. For instance, in the lower-stress environment of practice—as opposed to when a game is on the line—they go over how to tell a teammate she needs to be doing something different, and they learn how to handle being on the other end of feedback in a way doesn't feel like they're being attacked.
"We practice how we communicate with each other all the time," Fulks says. "You can't learn unless you're listening—whether it's learning about your teammates as people or learning about and then executing a skill set."
Ashley says listening is imperative in basketball. "When you're listening to someone, you're giving them your time, which is perhaps the most finite resource that you have."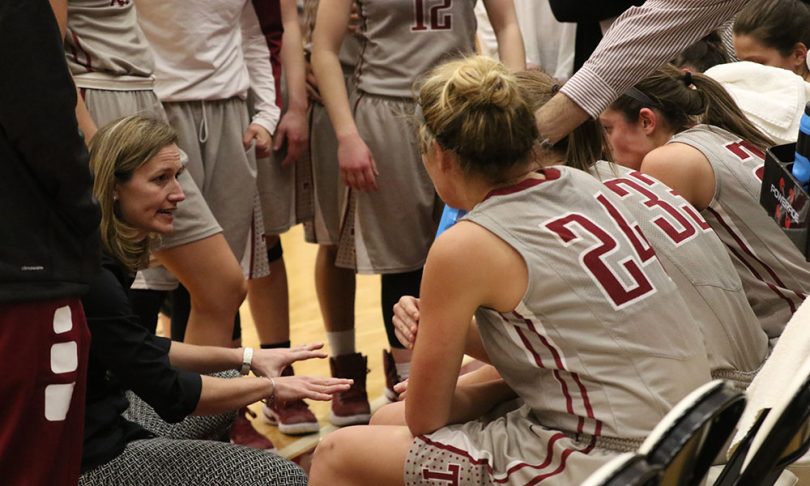 In addition to developing listening skills, the players train their awareness on the game in other ways. The natural reaction to missing a shot might be for a player to put her head down—or maybe her mind drifts off to an argument she had with her roommate—but this goes against the selflessness the team depends on. She might miss a call for a certain type of defense to run, for instance.
Junior guard Celia Kline says the other players can give her a mental push to get past a mistake or forget about a bad day. "As a team we really help each other through that and help build each other up if we do make a mistake."
Sophomore guard Shelby Boyle agrees. Something as simple as a high five or knowing the player next to her is going at it as hard as she is helps keep her head in the game. "When I know my teammates are giving their all, it makes me want to go hard too because that's what being on a team is—you all give everything that you have."
This culture of "we over me" extends to when a player has just scored 30 points and is getting all the media attention. On the one hand, that player needs to truly understand she had a great game because her teammates were doing their job—getting her the ball, rebounding and screening well, Fulks says. On the other hand, while it may be human nature to be jealous and want to tear down the star player, the others should be excited and complimentary. When the hero is humble and the rest are appreciative, "that's when you know you have things going in the right direction," she says.
The university's entire athletics program exemplifies this culture of giving.
Holly Sheilley, vice president for enrollment and student life and director of athletics, says one of the things that got the softball team all the way to the NCAA super regionals last year was that the players embraced their roles—even if that meant a player serving as a pinch runner. It may not have been the role they would have picked, but they understood it helped the team be successful.
Sheilley says the Transylvania coaching staff inspires this kind of grace—as with Coach Fulks, they stress the value of putting others first. "It seems like that would be all coaches' philosophies, but it's really not."
And it's not just something they preach but don't practice. Leaders like Head Baseball Coach Zach Getsee serve as role models for their players. Whether he is laying sod on the field, cutting the grass or helping tend the dirt, he shows his players how to put themselves out and work hard—as opposed to just telling them to do it.
In addition to this motivation the players receive from coaches, they also are inspired by a sense of gratitude.
They realize that an opportunity to play collegiate athletics, whether it's in Division I or III, is a huge privilege, Sheilley says. "With every huge privilege in life you get, you have an obligation to give back."