Speech and Debate
To the average person in 2017, the word "debate" may conjure up groans and eye rolls. Whether it's politicians hurling insults back and forth, or sports analysts on TV yelling over top of each other, it's no secret the state of debate in popular culture doesn't quite harken back to the days of Lincoln and Douglas.
But if you want to see debate in its purest form, a group of Transylvania students has been making a splash on the national scene for years.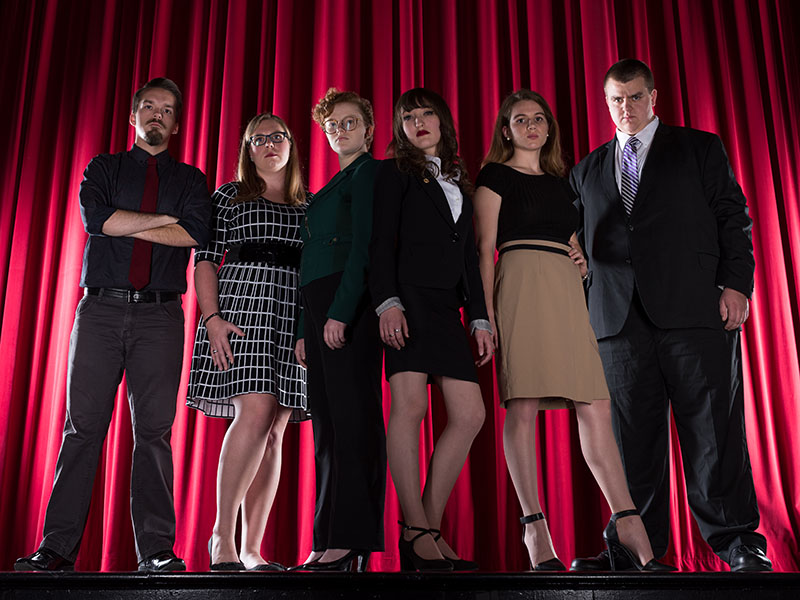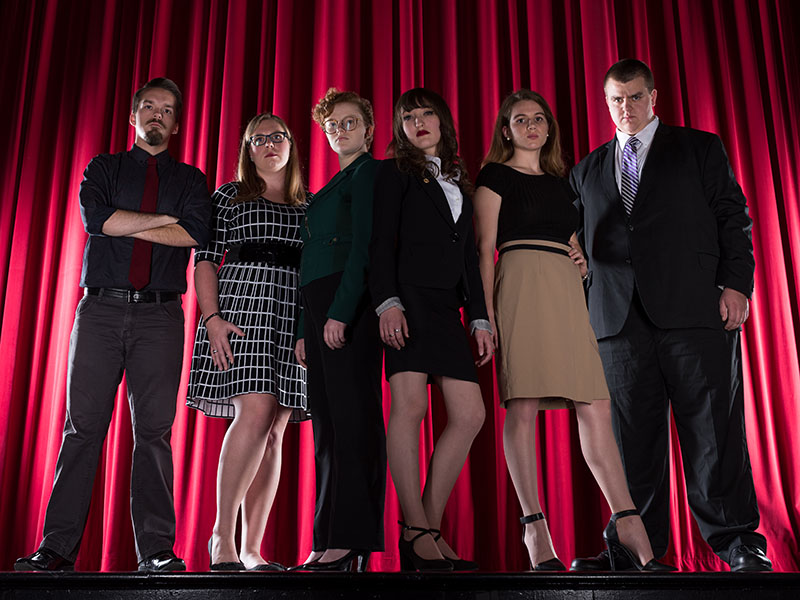 The Transylvania speech and debate team is coached by writing, rhetoric and communication professor Gary Deaton and is in the midst of a remarkable run of success in regional, state and national tournaments.
Transy participates in seven or eight speech and debate competitions per year. Speech events include prepared speeches, limited preparation speeches and interpretation. On the debate side, Transy competes in National Parliamentary Debate Association (two-on-two) and International Parliamentary Debate Association (one-on-one).
While the team has had success in just about every event you could imagine, it's the limited preparation events where the students really shine.
During the draw, they are assigned a topic, and after 15 or 30 minutes of preparation, they give a presentation or debate another team. They are judged in preliminary rounds, and then the top teams are seeded and move on to the elimination rounds.
Transy has had a team in the top 10 or elimination rounds just about every year since 2005.
Most students, once they receive their draw, will get with their coaches, who will often give them their strategies and talking points, laying out exactly what they think it will take to win the round.
But not Transy.
The team is made up of die-hard conservatives and liberals. It has students who major in neuroscience, religion, political science and biology. It has sports fans, news junkies, pop culture lovers and bookworms. And it has Transylvanians who have studied in the liberal arts tradition and soak up all the knowledge that's available to them.
"Everybody contributes to our prep," says junior Donovan Finan, one half of Transy's current top debate duo. He and his partner, junior Kaitlynne Wilkerson, were the second seed overall in the novice division at the national tournament their first year, and just missed being in the final eight teams their sophomore year in the junior division.
"We've gotten topics we know nothing about, but with the diversity of knowledge on our team and the coaching staff we have, I've never been nervous about not knowing enough going to a round," he says.
"I've used theory from Dr. Dugi's classes; I've used things from cognitive neuroscience when talking about psychology," Wilkerson says. "A lot of people on the debate circuit are political science or communication majors. Bringing in things that aren't necessarily part of those two fields lends an interesting hand to our prep and helps make us as successful as we are."
With a roster and a budget that dwarfs that of many of the schools it's competing with, how did these teams manage to build a culture of success that has given them such credibility on the biggest stage?
The answer, if you ask Deaton, is easy.
"Our students are being taught at Transy," he says. "Our coaches were educated here, and our students are getting their education here. Their research, as well as the things their professors talk about in class—it helps immensely that our students are being taught here."
Transy's coaches are all former team members. Assistant Director of Forensics Brian Powell '11 earned a history degree from Transylvania and was a national quarter finalist. The other assistant director, Rebecca Radcliffe '15, graduated with a biology degree and won national awards.
"We have a phenomenal coaching staff that is basically volunteer," Finan says. "They give so much of their time—Brian works other jobs, and Rebecca teaches and tutors."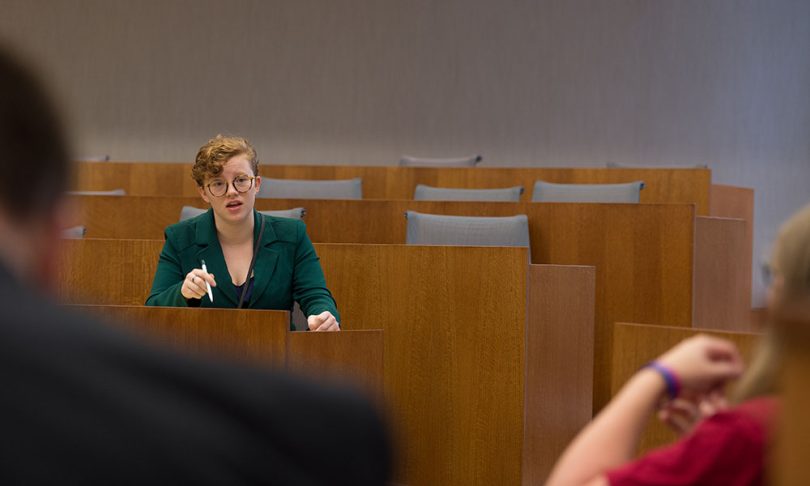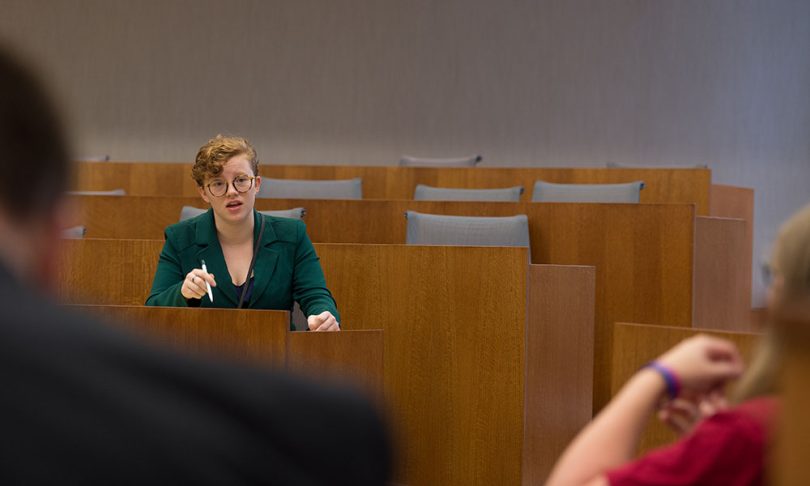 THE POWER OF LISTENING
The greatest debaters aren't the sharpest talkers or the craftiest strategists. They are the most eager listeners. They are the ones who can go into an argument already understanding fully the other side.
Riley Bresnahan started debating in high school because she was "aggressively shy" and was so nervous about a biology presentation that her teacher said she would let her sit it out if she agreed to sign up for the team.
Last year she became Transy's first- ever national champion in the IDPA junior division.
"I actually found my voice through it," she says. "It's educational; it keeps me informed. And for law school it's going to help me a lot."
Bresnahan stresses the importance of hearing all sides of an issue in order to work together to find the best answer.
"Debate in its purest form is not a monologue, but a dialogue," she says. "To do it well you must recognize the validity of both sides and be able to weigh those things against each other and allow people to challenge your ideas to come to a right conclusion.
"In its truest, most correct form, debate is one of the most educational forces there is because it is a proponent of ideas meeting."
That crossroads of disparate ideas is vital to Transylvania's mission to develop responsible citizens. It's why the university places such high value on building a diverse campus. It's why teaching students to be good communicators—both as senders and receivers—is of utmost importance.
"The values that debate teaches are incredibly important," says senior Rachel Halliday, who was a champion in the junior division of IPDA. She cited Transy's speech and debate team as one of the reasons she came to Lexington from Pittsburgh. "You're seeing polarizing opinions from people all over the political spectrum, but they are coming together with the same values of communication, so we're able to have productive conversations."
The difference between hearing and listening isn't an easy concept to grasp. ere are non-verbal cues you have to mind. There's remembering what you've heard and building on previous arguments. As Deaton puts, it: Hearing is physiological, but listening is a choice.
"With the 24-hour news cycle and the polarization of the culture, I think we're in a time period where everybody just wants to make sure that they're heard," Deaton says. "Listening generously is a great behavior, and active listening is a key component of that."