Michael Hoffman '65
Shortly after arriving at Bentley University in 1974, professor W. Michael Hoffman '65 applied for a National Endowment for the Humanities grant to start a few business ethics courses.
The agency's review committee, however, dismissed the request with comments that went something like: "Never heard of business ethics," and "Isn't that an oxymoron?"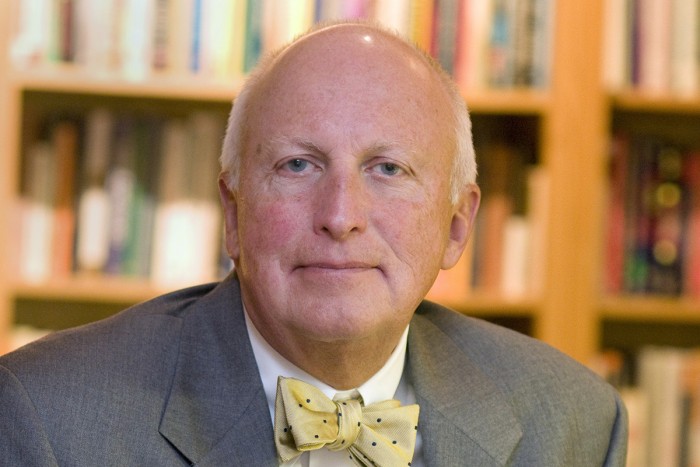 Not to be deterred, Hoffman met with the NEH director of programs, who seemed embarrassed by his agency's offhanded response to his application. The professor resubmitted, got the grant and not only brought business ethics to Bentley but in a way sparked the business ethics movement itself.
Hoffman's pioneering effort to bring together the unlikely domains of Plato and John D. Rockefeller has its roots in his philosophy major at Transylvania. A liberal arts education, after all, encourages students to think about issues beyond their own field of study. However, that big connection between ethics and business took a while to grow.
Hoffman, who grew up in Paris, Ky., went on to pursue his Ph.D. at the University of Massachusetts-Amherst after graduating from Transy. While he had received a scholarship to Vanderbilt, he felt drawn to the new cultural experiences the Northeast had to offer.
After graduate school, Hoffman set off to his first professorship at Hiram College in Ohio, a seemingly perfect locale for a philosopher. "I thought it was very idyllic in the middle of the woods at a very small college," he said. "I thought, that sounds very Thoreauvian."
Or, as it turned out, isolated.
It was during these years—the early '70s—when philosophers were venturing beyond the bucolic land of abstraction into the real world. They were becoming disenchanted with solely theoretical ethics and wanted to apply the field to professional areas such as business, medicine, the environment and engineering.
Hoffman took this new attitude with him back to the Northeast to chair the philosophy department at Bentley, one of the nation's premier business schools.
"There's no question that my grounding in liberal arts at Transy was the basis for going on and studying philosophy in a more specific way."
A few weeks after he landed the NEH grant to launch the new classes, Hoffman approached the university president (who was excited about receiving the grant) and asked if he could start a center that would offer the nation's first conference on business ethics. Hoffman got the thumbs up and in 1977 kicked things off in grand fashion. Speaker of the House Tip O'Neill gave the luncheon address; other attendees included former U.S. Attorney General Elliot Richardson and CEOs of major corporations. Gallup even conducted its first poll about business ethics for the event. "It was a big thing because nobody had ever heard of business ethics," Hoffman said.
These conferences—there were 10 in all—and the center helped put the field of business ethics on the map. To recognize Hoffman's achievements, Bentley last year added the professor's name to the institute: the W. Michael Hoffman Center for Business Ethics.
Hoffman—whose official title is Hieken Professor of Business and Professional Ethics—didn't stop with the center; he later co-founded the Society for Business Ethics and the first professional association for ethics practitioners.
As a business consultant, he helped the Coopers & Lybrand accounting firm and Niagara Mohawk Power Corporation develop ethics programs that won national honors.
When introducing his philosophy to actual businesses, he doesn't go in spouting Immanuel Kant; instead he translates the principles of great philosophers into a language business people can understand.
He also developed an effective schema for consulting: a pyramid with moral awareness forming a base that supports all further development. (Hoffman believes all people have an ethical dimension, which can be cultivated.) Once someone develops these basic sensibilities, the next stages are ethical reasoning, action and, at the apex, becoming an ethical leader who helps others climb the pyramid.
Hoffman's other real-world application of business ethics includes serving as an expert witness for law firms in cases involving high-profile issues from tobacco to lead paint to asbestos. "Who would have ever thought somebody getting a Ph.D. in philosophy would be doing something like that?" he said.
It all goes back to the liberal arts value of learning outside a narrow discipline. "It provides you with the power of thought to reach into areas and discover things that might not have been discovered by those within the field," he said. "There's no question that my grounding in liberal arts at Transy was the basis for going on and studying philosophy in a more specific way, and that study in philosophy was liberating and creative in terms of allowing me to reach beyond just philosophy and begin to apply that to professional areas such as business."