Casey McBride '14
Imagine your first day of school as a brand new teacher fresh out of teacher-training boot camp led by Teach for America. Now imagine that day in Walnut Park, not far from Ferguson, Mo., on the day after Michael Brown was killed.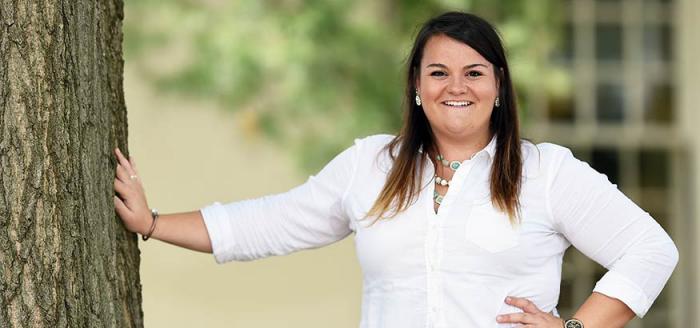 The cure for cancer?
A new fuel source?
An end to war?
Sermons to open hearts?
Art that redefines humanity?
It's all ready to be discovered by McBride's class.
If given the chance.
Picture the blocks around the school: houses without roofs, walls crumbling, a few solitary figures roaming the streets, drug deals and gangs catching kids in the crossfire.
Now walk into your fifth-grade classroom and meet 26 inquisitive, heart-breakingly bright, buzzing children. You don't yet realize that so much of your energy in your first year will be given to keeping these young lives safe. You'll be reaching deeply into their beings to draw out so much more than standardized tests demand or what this neighborhood—largely abandoned by the world—would seem to expect.
Casey McBride '14 says that people in St. Louis open their eyes wide when she tells them she teaches at Walnut Park Confluence Academy. But she wouldn't be anywhere else.
As a student at Transylvania McBride was known for getting involved. She was president of the Student Activities Board, active with her sorority and manager of the annual phone-a-thon that raises money for the university. When she graduated in 2013, she left for what she thought would be a stint with Teach for America and the idea of eventually working in student life, perhaps at her alma mater.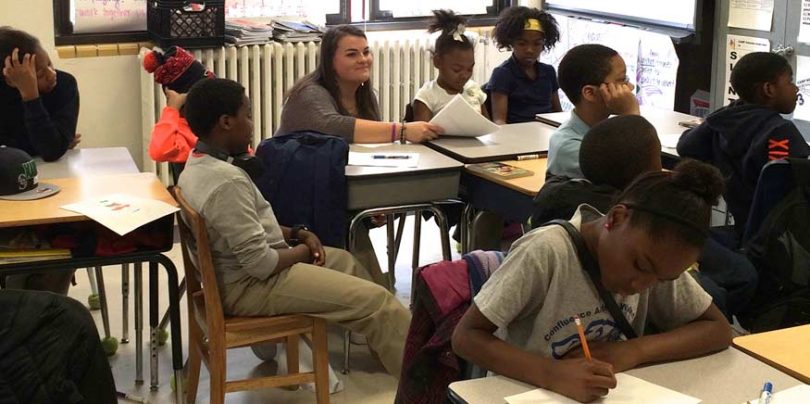 McBride's fifth graders hold letters of encouragement sent by students
from her alma mater.
But the promise and personalities of the 10-year-olds in her class, and their unfathomable circumstances, have altered McBride's sense of self and purpose. Their striking potential has shaped a new future for teacher and students alike.
"I'm understanding the systems that are in place in this world, like systemic racism. I think of how these sweet, bright, innocent kids are placed in situations where they're not given ample opportunity.
Many of these children take on adult responsibilities when they go home (if they have a home). Their reality requires honesty and bluntness from their teacher. Sometimes when they're having trouble focusing in class, she'll pause, open the window and ask them to consider the neighborhood around them. She reminds them why they're in class.
"Education can get you everywhere," she tells them. "We're at school to become who we are, to learn how to handle the world. If you want to change it, you need an education."
When applying for the job at Walnut Park she talked about Transylvania the entire interview—"about educating the whole person and real life application. At Transy I was always pushed to be a better version of myself and have an end goal in mind."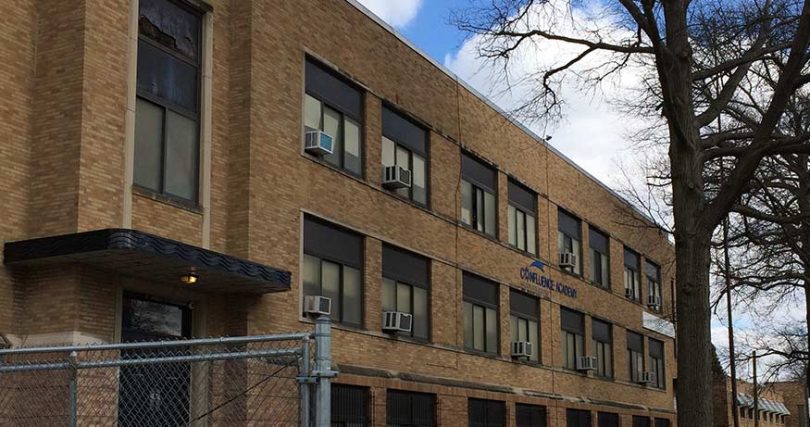 McBride's respectful command of her class belies her youth and her fledgling status as a teacher. Less than five months into the job, when the other two fifth grade teachers resigned in mid-year, McBride was made the lead teacher responsible for planning all three classrooms and juggling the substitute teachers until permanent replacements were found.
She says she owes her ability to righting such a complicated ship to her alma mater. "Transylvania taught me to work constantly and to never give up. My classes, the leadership experience and being involved across campus taught me to try my absolute hardest. And that's what it takes to teach at the school—perseverance and dedication, keeping your head up, being held to high expectations. And time management! Without that training, I wouldn't be here."
"I'm pushing these children to be as good as they can be," something, McBride says, she learned at Transylvania. "For that I'll be forever grateful."