Tari Young '03
Tari Young '03 was never your stereotypical "computer nerd." While earning her computer science degree, she was also becoming one of Transylvania's most prolific basketball players in school history. Over 1,500 points later, Young's achievements in athletics translated to a discipline that still drives her today.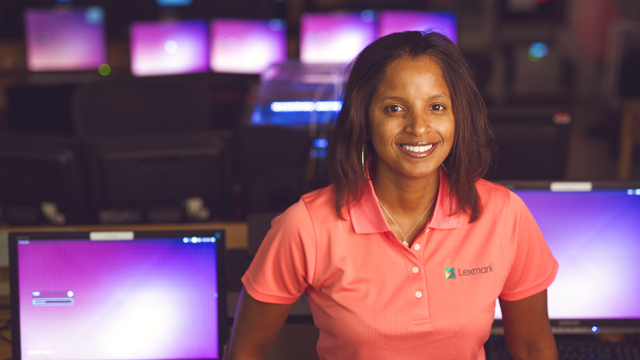 "Discipline and pressure are two things I had to encounter and deal with daily," Young remembers. "From practices to games, there was always an intentional focus on being the best you could be on the court. This easily translated into other aspects of my life, including my career."
That career got off to a quick start. During her sophomore year, Young's computer science professor asked if she would be interested in an internship. An interview at Lexmark led to a part-time job as a software tester. Upon graduating, she stepped right into the position of software engineer. She worked as a "team lead" for the scanner mechanism firmware team, transferring her leadership skills from the court to the office.
In 2010, Lexmark sent her on assignment to the Philippines, giving Young good work experience, and a new world perspective. "I built strong relationships while there that had a positive impact on getting work done when I returned to Lexington and had to interface with Cebu (Philippines)," she says. "It was a very humbling experience, and I am so glad I was given the chance to not only interact with fellow employees across the world, but to see another part of the world and appreciate its uniqueness."
A liberal arts education forces you outside of the box of a traditional education and comfort. You are exposed to so much more, and this will give you the unique advantage and perspective that others may not have when growing in their career.
During her time at Lexmark, Young earned her MBA. She has transitioned into management and is now a development firmware manager.
Young's ability to value and confront the unexpected dates back to her days at Transylvania. "Every course had its own unique challenge, and this prepared me for the ever-changing work environment that I'm in," Young says. "The way I react on the job to critical issues, deadlines, as well as learning the design of the firmware itself is a direct reflection on the computer science program. I feel like no task is too large to tackle. I felt very prepared to handle tough situations as I transitioned into more complex problems to solve on the job."
Young embodied the student-athlete. Living that balance, Young feels, has helped her to succeed beyond Transylvania. "Being a student-athlete has paid great dividends," she says. "I feel like it is an advantage. The ability to multitask is something that is so critical in my job."
Now a veteran of the computer industry and an avid cyclist, Young continues to balance work and play. Just as she dazzled the court as a student, Young inspires the same mantra in life—she shoots, she scores, she wins.