Pioneers Never Settle
Whether it's ride-sharing or mixology or apparel, students are making their way into a huge variety of fields in a fluctuating job market.
What is it about Transylvania that encourages its graduates to find success in arenas that are not always in line with their degrees?
Why won't these students settle for business as usual?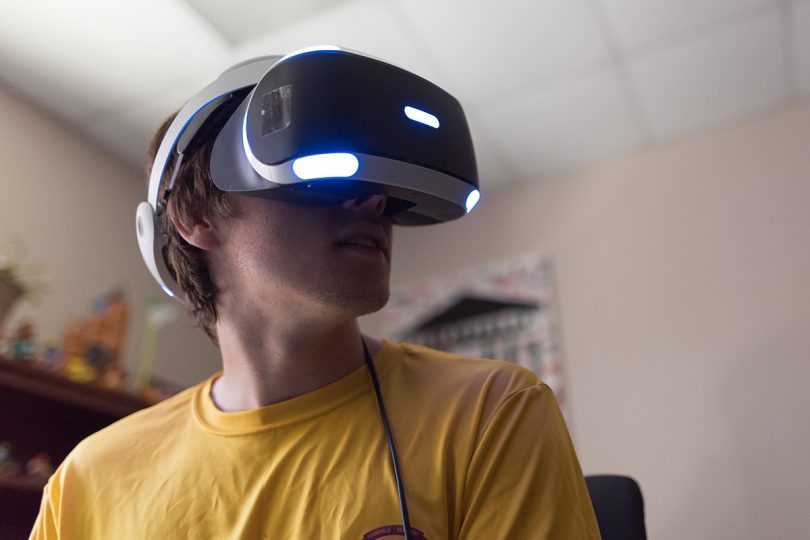 You're sitting in the middle of a pristine lake, surrounded by evergreen trees and picturesque, snow-capped mountains. Look up, and the red-orange sky begins to turn a vivid blue; look down, and you can see a school of fish nipping at the surface of the calm water.
To your right, you hear the sound of a train chugging around the perimeter of the lake, a long trail of black and gray smoke following behind. As you watch it move steadily past, it begins to turn left, making its way impossibly toward the water and toward you. Suddenly it hits the shoreline, kicking up a huge wake and picking up speed as it comes directly your way. You start to look around, wondering if you should move or whether this is just a trick of the imagination. As the engine gets closer, your pulse quickens—it's right on you—and as you brace for the impact, the train explodes into a flock of birds, darting past you in an overwhelming swarm.
You have just had your first experience with the awe-inducing, sometimes disorienting, technology of virtual reality. This two-minute scenario exists for no other reason than to show you how quickly you can lose yourself in a world of beauty and surrealism.
And you're hooked.
This is how Transylvania business professor Adam Evans likes to introduce visitors in his office to the capabilities of a system that is taking over his curriculum—a wave of the future that will soon inhabit homes around the world in the same way that televisions and smartphones forced themselves in and never relented.
"It's new, and it's coming," he says. "The possibilities are endless."
You can't spend long talking to somebody about Transylvania without hearing about the value of its liberal arts education. At its core, Transy aims to provide students a balance of breadth of knowledge and depth of discovery that will allow them to carve their own paths in a world that rarely rewards the status quo.
Much like that virtual train, a Transy graduate is encouraged to go "off the rails" and take on their lives and careers from angles that they may never have expected. Change comes at you quickly—will you get out of the way, or face it head on? Evans knows which option he wants his students to choose:
"Rather than just READ about it, it's time for us to BE about it."
Laura Bryan, vice president for academic affairs and dean of the university, points to a quote from Princeton University President Shirley M. Tilghman, who lays out a vision for how we ought to think about teaching today's student:
"A liberal education is designed to prepare you not for one profession, but for any profession—including those not yet invented."
But if we can't anticipate those future professions, how can we prepare our students?
Ten years ago, the idea of social media was limited to college students swapping photos of each other on Facebook or pouring out their hearts in an online journal. Today major companies employ entire teams of social media experts to communicate with their current and potential clients over a variety of platforms, furthering their brands, dealing with crises and making themselves more accessible to the public.
"Rather than READ about it, it's time for us to BE about it."

Adam Evans, business professor
If you look up social media job openings for J.P Morgan, for example, you'll notice that there is a conspicuous omission under the list of qualifications—a college degree in any specific field. Instead it lists skills tantamount to the task at hand, skills like "passion," "confidence," "creativity" and "an entrepreneurial spirit."
But Transylvania doesn't offer any courses in passion. Fortunately for our students, we do offer professors with their fingers on the pulse of progress who are willing to go outside the normal and show how a formal liberal arts education can translate into a fulfilling career—even one not yet invented.
"Many surveys with employers have demonstrated that they want to hire individuals who have similar characteristics to graduates of a liberal arts institution—creative, complex, thinker, team player, communicator, problem solver," says Bryan.
Kelly Hieronymus '13 was a philosophy major and studio art minor who picked up a job bartending at then-fledgling West Sixth Brewing a couple of blocks from campus during her senior year. While working with her advisor, philosophy professor Jack Furlong, she discovered an interest in marketing and began researching the influence of imagery in social media.
She jumped in to help the West Sixth owners develop their brand on social media through photography and targeted content.
"I remember having all of these interactions as a bartender that I started to translate in class," she says. "Being a bartender, you're kind of putting on a show. People are watching you and responding to you and behaving in accordance with your behavior. I started noticing those things in parallel with some of the stuff we were talking about in Senior Seminar, and Jack helped facilitate me taking those concepts we learned in class and translating them to real life."
It may sound unusual on the surface, but she began thinking about marketing like a philosopher. She looked at postmodern philosophical principles through the lens of social media and the interactions people have with their digital selves. As the brewery grew, they began to lean on her knowledge more and more, and three years ago she was officially hired full-time as the company's creative director, managing West Sixth's brand and marketing strategies.
"My professors helped create an example to engage myself in the community while I was in school," Hieronymus says. "The encouragement I got from Dr. Furlong, and from Zoe Strecker and Sharon Brown and others, gave me a lot of confidence to do what I loved to do."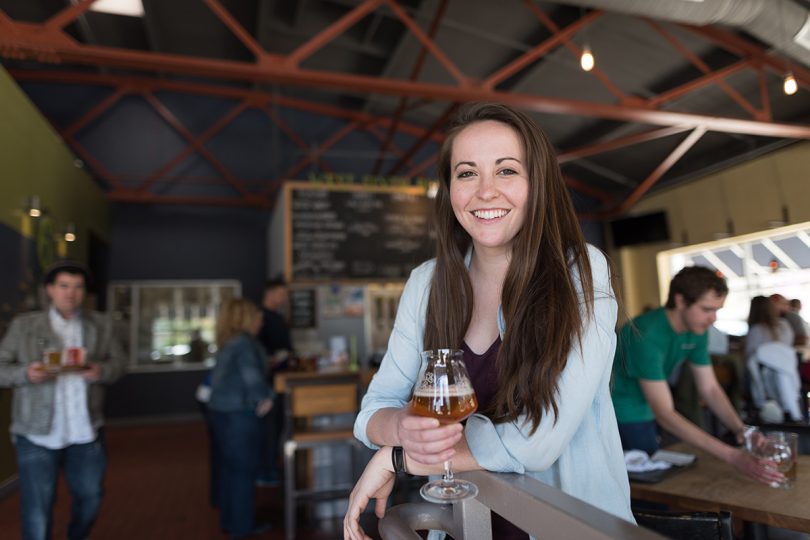 Uncharted Realities
Adam Evans grew up as many of today's 30-somethings did—with a handful of quarters he spent during long hours at the arcade. While dating, his parents played games on the Atari system, so "It's in my genes," he says. His lifelong fascination with video games and technology has trained him to pay attention to trends in the industry, and it's become clear to him that virtual reality is no fad, nor is it an idle time-waster.
So when the opportunity came to apply for a faculty grant to purchase a virtual reality system, he knew that this was going to have immense value to his business students who will graduate and look to find their place in a rapidly changing world of marketing, development and entertainment. He spent fall 2016 inviting students, faculty and staff to test the system and give feedback and ideas on how the technology could be used in their own fields.
He conducted over 1,000 minutes of demonstrations with users ranging from his business students to President Seamus Carey and surveyed participants on their experience.
"I had limited expectations when I tried VR for the first time," said one responder, "but it really opened my eyes. Before anyone dismisses the program they should try it at least once."
"I'd like to use it again to explore the use of VR and physical rehabilitation," said another.
He presented his findings to a group of faculty and staff in February, along with several examples of how businesses and schools all over the world are applying virtual reality.
"I've had 100 percent positive feedback," Evans said. "Not one person said they were underwhelmed. They've all said, 'We want more.'"
Imagine taking virtual reality tours of first-century Rome or walking through a home you designed or presenting a business plan to a room full of CEOs, all from a lab on campus. These opportunities are at our fingertips as we venture into uncharted territory with an innovation that's sure to change the way we look at business and learning.
Alex Frank, a junior business administration major with an emphasis in marketing, has already seen how virtual reality is reaching early adopters, and she was excited when Evans approached her to work with him. They had found common ground previously in their love for video games, and she now facilitates open VR lab hours each week to show off the system.
"There are quite a few companies, including Marriott, that are jumping on the bandwagon of putting out VR advertisements," she says. "They want to show you one of their best hotels; you can take a tour without having to go there. Chick-fil-A has a VR campaign where you skydive with cows. You're playing this game and having fun, and their name is on those cows."
The next step, Evans says, is to eventually set up a technology lab that can have a dedicated space for virtual reality. It could incorporate even more elements like haptic suits that use a camera to track your full body movements and a 360-degree treadmill to incorporate walking. Students would be able to develop their own virtual reality programs and test them in the lab, gaining valuable experience before they take their skills to the workforce.
"This is our chance to break the boundaries of a traditional classroom and integrate the best parts of that with something brand new," Evans says. "Classrooms where you have three instructors instead of just one. Classrooms where you're meeting with students across the globe and experiencing anything I can cover in a textbook.
"One of the things that makes Transy a special place is we have these intimate environments where the professor is involved in the student's life and giving them unique opportunities. This is one of those opportunities."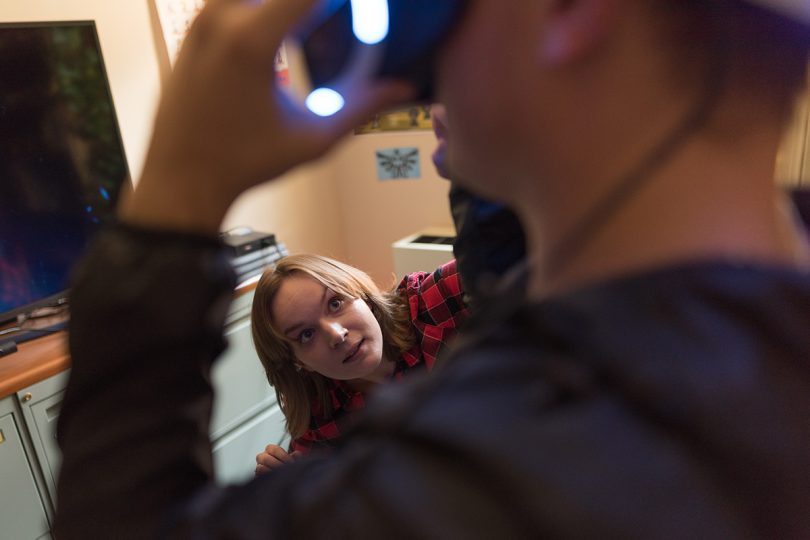 A Connection Brewing
Biology professor Paul Duffin and chemistry professor Kyle Schnitzenbaumer have some overlapping hobbies: running and beer.
So naturally the conversation about their new team-taught May term course came up during a jog, while the two were comparing notes on their home brewing techniques. Duffin has been brewing for 12 years, Schnitzenbaumer for five, but their fascination with beer runs deeper than just color and flavor.
"Experts see how things are interconnected. They see a complete picture rather than a particular detail" —Kyle Schnitzenbaumer, chemistry professor"Brewing is rooted in chemistry and biology," Duffin says. "It's a series of steps and processes, and each of those processes is rather complicated. The chemistry of the boiling process is astronomically complicated, and fermentation is pretty darn complicated, too."
So they designed a course around the world of brewing, focusing mostly on the science of the process, but also issues of history, economics and ethics of a booming global industry. This is no cakewalk course on beer appreciation— this is real, get-your-hands-dirty lab work.
On the second day of the course, the students got into groups and brewed their own batches of beer in the HRT lab in Mitchell Fine Arts Center. While waiting for it to ferment and condition, they did their academic work and visited local breweries like West Sixth Brewing and Alltech Lexington Brewing and Distilling Company to see the process on a larger scale.
The experience serves to help students make connections between two unique disciplines, which speaks to the issue of preparing them to make new connections in their careers.
"One of our big goals as an institution and a faculty is to help progress our students toward the 'expert' category," Schnitzenbaumer says. "Experts see how things are interconnected. They see a complete picture rather than a particular detail. This is a wonderful example of that bigger picture, that interconnectedness of ideas and concepts."
"Academics can be so compartmentalized," Duffin added. "I'm going to learn about molecular biology three days a week for 14 weeks, then I'm going to take Organic Chemistry in the fall. That has some benefits for getting depth and immersion in a topic, but you miss connections between disciplines. In this course, you're not only seeing the perspectives of a chemist and a biologist, you're seeing how those knowledge bases cannot be separated. There's no biology without chemistry."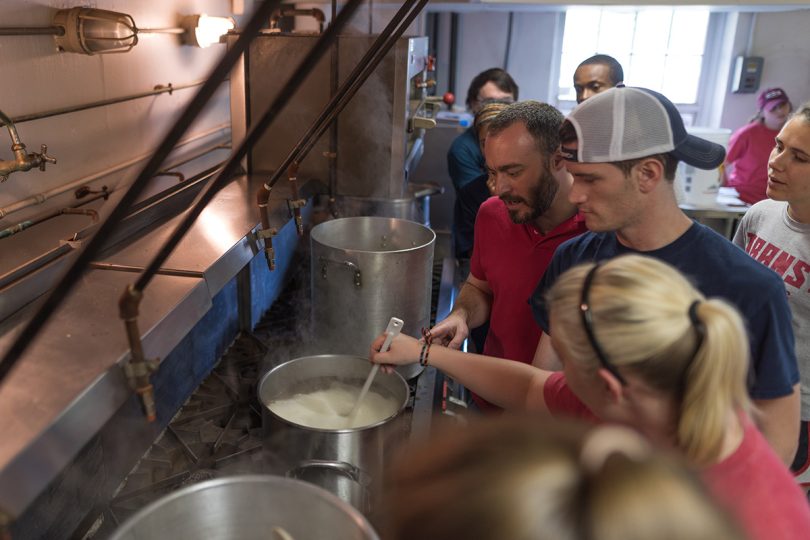 Unique Preparation
Making connections. Pushing boundaries. Working on the cutting edge. These are values that Transylvania is instilling in its students in order to prepare them to succeed in a future that contains so much uncertainty but limitless opportunity. It's why so many graduates end up in positions that, on the surface, may have nothing to do with their degrees. But they are still uniquely prepared for success.
"At Transy we try not to be stuck doing what we've always done," says Transy student Alex Frank. "We're always looking to do things better and find something new and creative to make our classroom environment more interesting."
But it seems there is something special about Transy students, as well, who crave that sort of creative challenge to do something that's never been done and see connections that have never been made. It's inspiring, Bryan says, and the professors take notice.
"Many conversations are occurring among faculty that provide for reflection of what we do here. I believe that students inspire faculty to think outside the box about their courses and ways of teaching."
There will always be a place at Transylvania for traditional classroom learning. But as innovation speeds up the progress of humanity, professors and students are taking it upon themselves to look beyond "the way it's always been" and explore the natural next step in the evolution of education.
After all, there are settlers—and then there are Pioneers.