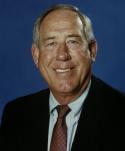 LEXINGTON, Ky.—C.M. Newton, who began his pioneering athletics career at Transylvania University, has been inducted into the National Association of Collegiate Directors of Athletics Hall of Fame. 
The NACDA lauded Newton for his achievements as player, coach and administrator, saying he "enhanced the game's integrity and helped ensure basketball's success."
After playing under Coach Adolph Rupp at the University of Kentucky, Newton coached Transylvania's men's basketball team for 12 seasons. He led the Pioneers to their first postseason competition in 1963 and recruited the university's first African-American player.
Newton went on to coach at the University of Alabama and Vanderbilt before returning to UK as director of athletics, helping turn around the basketball program and hiring the school's first African-American men's and women's basketball coaches.
"C.M. Newton has made his mark on collegiate athletics both as a coach and an administrator," said Holly Sheilley, Transylvania's vice president for enrollment and student life.
"He has never been afraid to lead the way, and one of the ways he did that was through racial integration," Sheilley added. "His accomplishments at UK—from facility expansions to his hires—are to be commended. It is a rarity to see an individual with such a high degree of success as a player, coach and administrator. It is a great delight for Transylvania that he began his career here."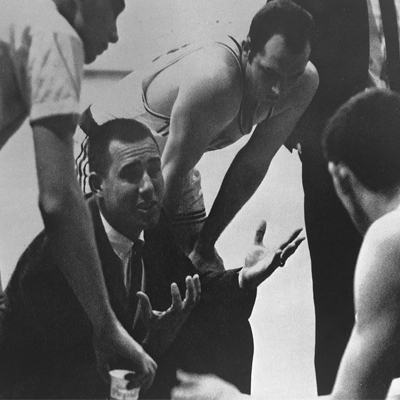 In 1992 Newton was inducted into Transylvania's Pioneer Hall of Fame.
His other accomplishments include serving as manager of the 1984 U.S. Olympic basketball team, which won a gold medal, and as an NCAA Rules Committee member when the three point shot and shot clock were instituted.
Former Transylvania men's basketball coach Don Lane talked about Newton's influence. "Having served as basketball coach at Transylvania, as did C.M. Newton, I have followed and learned from Coach Newton from Transylvania until retirement," he said. "His life's work in coaching, teaching and administration have influenced thousands of people that come from all walks of life. He has done his work with great integrity and with others utmost in mind, and thus has made an enormous impact nationally and internationally on college athletics. He's one of the most deserving ever to receive this award."
Newton and the other Hall of Fame honorees received their awards during the NACDA's 52nd Annual Convention in Orlando, Fla.
The 2017 class of inductees also included: Mike Alden, University of Missouri; M. Dianne Murphy, Columbia University; Tim Selgo, Grand Valley State University; Randy Spetman, Florida State University; and Max Urick, Kansas State University.
(Small portrait: NACDA)