Sarah Miller '09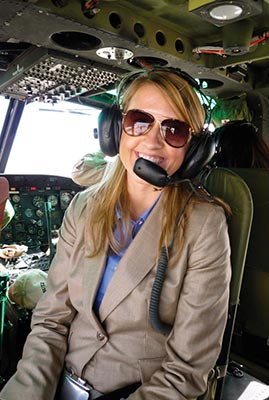 When Sarah Miller '09 took an ecology class in the fall of 2007, she discovered that she was "fascinated by the study of how organisms interact within ecosystems." The following May term, she traveled to Belize with biology professors Belinda Sly and James Wagner to study tropical marine and forest ecosystems. The course focused in part on how human activities are affecting these unique environments.
"It was an amazing experience to see first-hand the fragile balance of natural ecosystems," said Miller. "For me, the experience emphasized the importance of finding a career through which I could help create a more sustainable world."
Today, Miller works with Booz Allen Hamilton as a consultant to the Army's Energy Initiatives Task Force, based at the Pentagon in Washington, D.C. Her job is to identify energy sources appropriate for each Army installation, considering local renewable energy options—such as sun, wind, and biofuels—when available. She serves as an on-site project manager and works with utility companies and developers to find the best solutions.
"Our energy makeup won't look the same everywhere. There are regions where you have large-scale solar projects going in, such as Arizona and southern California. We also have to value other resources, such as natural gas. It's more of a holistic approach that will include leveraging traditional carbon-based fuel sources as well as renewables."
I have the opportunity to facilitate a fundamental shift in how the U.S. Army acquires electricity for its installations across the U.S.
After graduating from Transylvania, Miller worked as the environmental education coordinator for Bluegrass PRIDE (now called Bluegrass Greensource), introducing Kentucky teachers and students to important environmental issues. She then earned a master of public administration degree in environmental science and policy at Columbia University, where she focused on energy studies.
She values how her experiences at Transylvania helped her succeed in graduate school. "My liberal arts education was critical in preparing me to excel in a rigorous multi-disciplinary graduate program. It was also helpful that my biology professors at Transylvania instilled a strong work ethic in the classroom and encouraged creative collaboration."
Miller feels she has found a good niche for her interests and her talents.
"My passion for this work comes back to an appreciation for the complex ecosystems we are a part of, as well as an understanding of how our everyday choices affect the balance of those ecosystems."