Rya Luttrell '12
When Ryla Luttrell '12 arrived at Transylvania, the expression "liberal arts education" meant nothing to her. After four years of study, however, she has a much better grasp of how all fields of study are interconnected. And her engagement with others on campus has helped her refine who she is and how she can express herself through her art.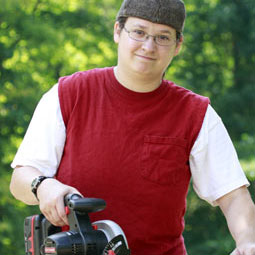 As part of her wide-ranging experiences on campus, Luttrell says she "had the opportunity to have tough conversations about topics that are too often taboo, such as religion, politics, and ideology." She could safely test her own ideas and "converse with peers of different upbringings and beliefs." As Luttrell explains, "This understanding has been incredibly beneficial to me as a person and as an artist. It has allowed me to communicate with people outside my field with confidence."
These opportunities for dialogue also helped Luttrell look beyond herself and better understand her place in a larger global community. She credits her professors for expanding her world view and teaching her how to "weigh choices based on my own needs and the needs of others in my life."
The meaningful relationships she developed with Transylvania professors initially surprised her. Luttrell found that her professors—including writing, rhetoric, and communication professor Scott Whiddon, music professor Ben Hawkins, and art professors Kurt Gohde and Zoé Strecker—"talked to us like we were intelligent individuals with valuable ideas, and respected us as people."
It was through my study of visual and auditory arts that I became better prepared to engage people in meaningful dialogue.
Soon after graduation, Luttrell was hired as Transylvania's studio assistant in the art program. She helps maintain the studio spaces for students and faculty, making sure they're organized and user-friendly. She's also developing plans for a storytelling workshop on campus, which may involve participation from several academic programs, including art, theater, foreign languages, English, classics, and writing, rhetoric, and communication.
"Working in the art department has been absolutely amazing. It's been a lot of fun and a lot of work. I'm getting to interact with the students, and that's something I hadn't expected. If they need anything and can't find a professor, I usually have an answer."
As part of her current position, Luttrell is required to have an exhibition. In spring 2013 she will fill the student gallery in the Shearer Art Building with a lighted installation of some of her welded pieces.
As the opportunities arise, Luttrell also finds time to hone her music performance skills, working with brass musicians at her high school and playing with the Salvation Army youth band. She's also learning a new skill working as a framer at a nearby Michaels craft store.
Having now spent time on campus as a student and a member of the staff, Luttrell appreciates the warm welcome she experienced when she first visited Transylvania's campus as a prospective student. "I was never disappointed with my decision to attend Transylvania."