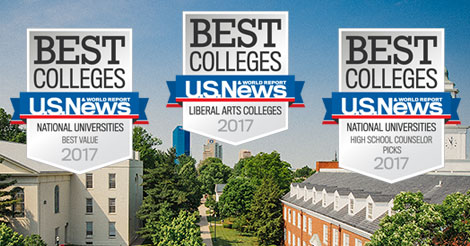 LEXINGTON, Ky.—Transylvania University ranks as one of the 10 best U.S. colleges for value, and overall as one of the nation's premier liberal arts schools.
USA Today/College Factual's recent Best Colleges for the Money ranking lists the university 10th among more than 1,000 schools. Also, the U.S. News list of Best Colleges released today once again places Transylvania among the country's top 100 liberal arts schools.
"We are pleased to consistently rank among the nation's finest liberal arts colleges," Transylvania president Seamus Carey said. "Recognitions such as these reflect the quality of our incoming classes and the education they receive—at a great value compared to most of the rest of the U.S. News top-100 liberal arts schools."
Ninety-eight percent of Transylvania's students receive assistance that reduces tuition, making it an attractive option—even when compared to public universities—for families on a tight budget.
The USA Today ranking considers the educational quality of an institution as well as factors such as tuition, grants, scholarships and the average number of years it takes students to earn a degree. "The bigger the difference between the school's quality and its cost, the more quality education you are getting for the dollar and thus the higher the value for the money," according to College Factual, the service used by USA Today.
In today's U.S. News ranking, Transylvania placed 46th in the Best Value category for national liberal arts colleges. The university also tied for 83rd among the country's best liberal arts colleges and placed 106th among the High School Counselor Picks.
Earlier this summer, Forbes ranked Transylvania among the nation's best colleges for student outcomes and alumni giving. Transylvania placed among the top 10 percent of U.S. colleges for general return on investment—measures including post-graduate success, satisfaction and student debt—and among the top 4 percent of colleges in graduate donations and participation rate.
Another recent ranking reflects the value of a Transylvania education. The school placed 42nd in Washington Monthly's Best Bang for the Buck among Southern colleges.
Also, the Princeton Review last month included Transylvania in the Best 381 Colleges and among the Best Southeastern colleges.
"While rankings are important, much of what we do here at Transylvania isn't easily quantified," President Carey said. "Students become part of a lifelong community that helps them develop as a whole person. And through a curriculum grounded in the liberal arts, they are prepared for success in the workplace as well as in life."
Recent Rankings
USA Today's Best Colleges for the Money ranking top 1 percent in the country
U.S. News 46th Best Value
Washington Monthly Best Bang for the Buck among Southern colleges
U.S. News best national liberal arts colleges top 100
Forbes best U.S. Colleges top 10 percent
Forbes top 100 Grateful Grad Colleges
Princeton Review Best Colleges
Princeton Review Best Southeastern colleges
U.S. News High School Counselor Picks
BackgroundChecks.org's The Safest Colleges in Kentucky
USA Today's Best Colleges top 1 percent Most Focused on Romance Languages
USA Today's Best Colleges top 5 percent Most Focused on Foreign Languages and Linguistics
Wall Street Journal/Times Higher Education College Rankings 2017