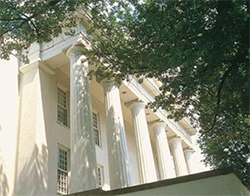 LEXINGTON, Ky.—Transylvania University is making a major commitment to graduates of the globally recognized International Baccalaureate program.
Transylvania will offer scholarships of at least $60,000 over four years to graduates of IB programs, which, like the university, promote open-mindedness, intercultural understanding and curiosity.
"We are reaching out to IB students everywhere because we believe that our shared approaches to modern, interdisciplinary liberal arts education offer each of us the opportunity to grow and to use education to improve our lives and make the world a better place for all," Transylvania President Seamus Carey said.
The more than 5,500 IB programs in 151 countries—from Botswana to Boston—prepare students for participation in a global society through a rigorous curriculum. Founded in 1968, IB educates students aged 3-19, awarding them diplomas or certificates upon finishing the program. Four Kentucky high schools have IB programs, and there are several more in the region.
Transylvania will begin offering the scholarships in the fall of 2017.
The university believes its deep foundation in the liberal arts serves as an ideal continuation of the IB curriculum, which shares its values of knowledge, creativity, service and empathy.
Those offered a scholarship also will receive early entry into the 100 Doors to Success mentoring program. This initiative pairs students with alumni who share a wealth of workplace and life experience. Additionally, the university will guarantee them internships and/or study abroad experience.
While Transylvania ranks among the nation's top liberal arts colleges, the university offers an affordable education through scholarships such the one for IB students and other types of financial support. Ninety-eight percent of Transylvania's students receive assistance that reduces tuition.