LEXINGTON, Ky.—Brooke Jennett, who graduated from Transylvania University in May, has won the 2016 Dramatists Guild of America Young Playwright Award.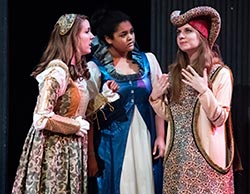 Now in its third year, this national award identifies writers who demonstrate a commitment to their craft and the ability to present a unique view of the concerns of their generation, according to the DGA.
"I am so honored to receive this award, especially among a pool of so many talented young playwrights," said Jennett, who graduated cum laude with honors in her theater major.
Michael Bigelow Dixon, a theater professor at Transylvania, said Jennett is finding her unique voice. "Her plays combine a poetic imagination with strong passions, deeply held convictions and vibrant theatrical instincts. Brooke clearly has things to say about the ways of the world and her experience in the 21st century, and through theater she's finding a way to express her thoughts and feelings in dramatic and entertaining ways."
Competing against hundreds of other entrants from across the country, Jennett won the award for "Three Is Company," which she wrote during Horizon Theatre's New South Young Playwrights Festival in Atlanta earlier this month. Aurora Theatre's Associate Artistic Director Justin Anderson directed the play during the festival.
Dixon described "Three Is Company" as "a quirky romantic comedy that explores complexities of modern love in a supermarket tea aisle, where three characters discover the importance of naming their unique relationship along with their favorite infusion beverages."
Jennett, of Paducah, Ky., qualified for the competition with a work titled "Fish Stories," which she wrote during Advanced Playwriting at Transylvania. Her current project, which she is co-editing with Dixon, is an anthology play about college life featuring monologues written by student playwrights from across the country.
In addition to receiving a year's membership in the Dramatists Guild, Jennett will be interviewed for an article in The Dramatist magazine's 2017 July/August issue.
With more than 6,000 playwrights, librettists, lyricists and composers in its community, the Dramatists Guild of America was founded in 1912.
Transylvania, located in the heart of downtown Lexington, is ranked in the top 15 percent of the nation's four-year colleges by The Princeton Review, which cites its community-driven, personalized approach to a liberal arts education through 38 majors and 37 minors. Founded in 1780, it is the 16th oldest institution of higher learning in the country, with nearly 1,100 students.
The university's theater program aims to educate theater artists who develop their talents in acting, directing and design as they pursue their interests in contemporary issues, such as social justice, the environment and international relations. The program produces several mainstage productions each year, and playwriting students have recently published new works for books, journals and other publications.