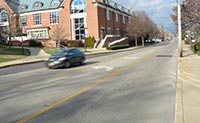 LEXINGTON, Ky.—Transylvania University and Lexington-Fayette Urban County Government plan to work together on a $1.3 million project to improve the West Fourth Street corridor from Upper to Jefferson streets.
The work, which is expected to take place next year, will include new sidewalks, street and pedestrian lighting, signage, traffic and drainage improvements and further development of the Legacy Trail. The project will extend the look and feel of the previous streetscape improvements on Fourth Street alongside the school's Athletics Complex between Jefferson Street and Newtown Pike.

Transylvania will match 20 percent of a state grant paid for by federal Congestion Mitigation and Air Quality funds, which support innovative improvements to traffic flow and air quality. Lexington and Lextran received a total of $7.7 million from the CMAQ program.

"These road and trail projects will help Lexington continue to strive to have a clean, healthy environment to support its strong quality of life for families and businesses," former Gov. Steve Beshear said.
Mayor Jim Gray also praised the funding. "These are the kinds of projects that improve quality of life in Lexington," he said.

The Transylvania community especially will benefit from the improvements because students often walk and bike along Fourth Street to reach the Athletics Complex.

Previously the site of an abandoned tobacco warehouse, the sports venue is another example of how Transylvania has invested in developing this corridor—which connects not only the residents of north Lexington with downtown but also the campuses of Transylvania and Bluegrass Community & Technical College.
"Transylvania is so pleased to be able to partner with both the state Transportation Cabinet and the Lexington-Fayette Urban County Government to be able to bring these streetscape improvements to our neighborhood," said Marc Mathews, vice president for finance and business. "This will continue the partnership we had with these groups and BCTC when we partnered two years ago to redevelop the streetscape on Fourth Street between Newtown Pike and Jefferson Street. This has provided a beautiful new entryway into our neighborhood and downtown Lexington."