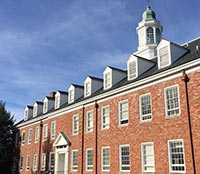 LEXINGTON, Ky.— Kiplinger's Personal Finance has named Transylvania University one of the best values in the nation.
The magazine, which looked at which colleges combined outstanding academics with affordability, ranked Transylvania in the top 12 percent of the schools reviewed.
"This is one of many reliable, data-driven sources that identify Transylvania as an excellent value," said Rhyan Conyers, interim vice president for enrollment. "Higher education is a significant investment of time and financial resources, and it's important to us that we deliver an outstanding value to our students and families."
Kiplinger editor Janet Bodnar offered practical advice about the ranking. "Families can use the list as a starting point and then tailor it to each student's preference for such things as size, location, campus culture and major," she said.
The magazine included 1,200 schools in its review, which also placed Transylvania 64th among the country's liberal arts colleges.
When ranking the schools, Kiplinger considered criteria such as admission and graduation rates, student-faculty ratio, tuition cost and financial aid.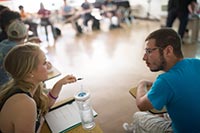 Transylvania is committed to providing a top-tier education for the lowest cost possible. For instance, 98 percent of its students receive financial aid, and first-year students are awarded an average of $22,147 in scholarships and grants. Additionally, the university guarantees graduation in four years, covering tuition beyond that time for those who've met academic and course-load goals.
The Kiplinger ranking is among several recent recognitions for Transylvania. Others include a U.S. News & World Report list that named the university among country's best 100 liberal arts schools and a Princeton Review report that ranked it in the top 15 percent of the nation's four-year colleges.