LEXINGTON, Ky.—Transylvania University inducted three alumni into the Pioneer Hall of Fame on Saturday, Oct. 10, as part of the Celebration of Transylvania, which culminated in the inauguration of President Seamus Carey.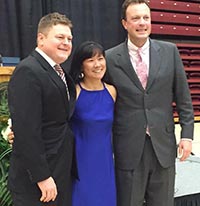 Ethan A. Busald '05 (pictured left), Carol Munson Caudill '98 and John Mark Stuart '95 became the newest members of the 113-member fraternity.
"Participation in athletics provides student-athletes with valuable life lessons including teamwork, perseverance and leadership, to name a few," Vice President of Athletics Holly Sheilley said. "Ethan, Carol and John have translated these life lessons not only during their time as student-athletes at Transylvania but also into their professional lives. We are honored to have them inducted."
Busald made his mark as an exceptional tennis player, earning the title of HCAC Athlete of the Decade. His accomplishments also include being the first in conference history to earn four MVP awards; and he never lost a conference singles or doubles match, winning titles in both categories at No. 1 each of his four years. Additionally, Sports Illustrated recognized Ethan in its "Faces in the Crowd." He went on to graduate from Northern Kentucky University's Chase School of Law in 2009.
Caudill took to the field for Transylvania in a variety of sports— from field hockey to softball to soccer. In field hockey, she was named MVP in 1997 and Most Improved Player her first year. And she earned spots on the KWIC Tournament field hockey and softball teams. Outside of school, she was selected as a candidate for Kentucky Derby Queen.
Stuart was a record-setting hoops star at Transylvania. His honors include playing on two NAIA national tournament teams, earning a Great Lakes All-American honorable mention in 1995 and twice being named Great Lakes Section player of the week. He notched a career-high 39 points in 1995, ranked 12th on Transylvania's all-time scoring list with 1,577 points and, in the Great Lakes Section, ranked fifth in scoring and ninth in steals. His other records include: team-high free throw percentage (80.5) in 1993-94, career free throws made (468), most steals in a season (69) and average free throws in a season (238).
Go here for more information on the Pioneer Hall of Fame.