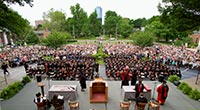 LEXINGTON Ky.—Transylvania University's commencement on Saturday, May 23, marked the start of a new journey for graduating students, who are well-prepared to join the workforce or continue their education at graduate or professional schools.
The students of the class of 2015 received their bachelor's degrees during the 9:30 a.m. ceremony in front of historic Old Morrison.
Homaira Akbari, an award-winning thought leader in the security, Internet of Things, mobile and software sectors, delivered the commencement address. She is founder and CEO of the global advisory firm, AKnowledge Partners.
"Dr. Akbari is a brilliant thinker at the cutting edge of technology, industry and business," President Seamus Carey said. "She has a unique perspective to share with our students that will not only inform, but inspire them to shape their futures."
Transylvania senior Skyler Slone—a theater and philosophy, politics and economics (PPE) major from Hindman, Ky.— gave the student address: "You Are Living Your Story."
Also during the ceremony, the university presented an honorary Doctor of Humane Letters to Roszalyn Mack Akins, a 1976 Transylvania graduate and long-time Fayette County Public Schools teacher and administrator. Akins founded the BMW (Black Males Working) Academy, which motivates and educates African American students.
The class of 2015
These students have set themselves apart in an outstanding fashion:
• Forty-one percent of the students will receive honors in their academic programs, and 35 percent will graduate with Latin honors—a cumulative GPA above 3.5.
• Transylvania will graduate its first group of majors from the neuroscience program, which started in fall 2013 and now has 35 students majoring in it.
• Members of this class have received numerous awards to continue their education, including two of 23 Alpha Lambda Delta Fellowships offered to the honor society's 275 chapters nationwide, the University of Kentucky's prestigious Cralle Fellowship and the Rotary Club's Ollie Hurst Scholarship for involvement in community and campus affairs.
• Students will pursue graduate degrees that include French at NYU and physical therapy at Columbia University.
• Sixty-seven percent of the class studied abroad in locales from Japan to Ecuador, and three students received Kenan Student-Faculty Research grants for independent projects in Europe. Additionally, three received Fulbright English Teaching Assistantships.