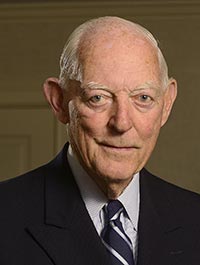 KET photo by Steve Shaffer
LEXINGTON Ky.—Transylvania University will name one of its three new residence halls after James E. "Ted" Bassett III, a Marine Corps veteran and Yale graduate. Bassett, a member of the University's Board of Trustees since 1970, contributed the project's initial leadership gift.
Bassett Hall will open for students in the 2016-17 school year. Two more residence halls will open between fall 2015 and fall 2016. All of the new buildings will be in Back Circle off West Fourth Street near the intersection of North Broadway.
This construction will transform the University's residential side of campus, integrating students' social and academic environments. The halls will offer common study and activity areas, and they will be consistent with the University's traditional architectural style.
"It is a privilege for me to be associated with Transylvania University, one of the nation's most revered and respected universities," Bassett said. "I am honored to be partnering with them in helping to deliver a quality education for the next generation of students."
A native Kentuckian and horse industry leader, Bassett served as Keeneland's president and chairman of the board and was president of the Breeders' Cup Ltd. He also was a former director of the Kentucky State Police and received the Congressional Medal of Honor Society Distinguished Citizen Award in 2011.
The Yale graduate has received numerous other recognitions, including the Distinguished Philanthropist, Eclipse Award of Merit, Lord Derby, Department of Navy Superior Public Service and Marine Corps Semper Fidelis awards. He is a member of the Kentucky Athletic Hall of Fame and received honorary doctorates from Transylvania, Eastern Kentucky University and the University of Kentucky.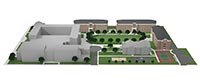 "Mr. Bassett's generous donation is a tremendous boost to our renewal here at Transylvania, ensuring our students' entire experience of university life is of the highest quality," President Seamus Carey said. "He is a role model for our students and true leader with a strong commitment to his community."