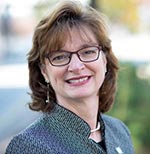 LEXINGTON, Ky.—Transylvania University named Laura Bryan, who was dean of the University of Baltimore's college of arts and sciences, as vice president for academic affairs and dean of the university. She began July 1.
By hiring Bryan, Transylvania continues a leadership transformation that started a year ago with the selection of President Seamus Carey.
"We are very excited to have Dr. Bryan join the Transylvania community during this time of renewal," Carey said. "She brings a wealth of experience as an educator, administrator, consensus builder and advocate of the liberal arts."
Bryan, a U.S. Fulbright Scholar and psychology professor, serves as the chief academic officer for the Yale Gordon College of Arts and Sciences' undergraduate and graduate programs.
"I have tremendous respect for Transylvania's mission, faculty, staff and students, and I am honored to be selected as the next dean," Bryan said. "I look forward to partnering with the university and Lexington communities."
She will serve on the executive cabinet and oversee Transylvania's library, study abroad program, writing center, first-year academic experience, registrar and career development office.
Bryan is no stranger to the Lexington area, having served as director of work-life at the University of Kentucky. Additionally, she was associate VP for academic affairs with the Office of Institutional Effectiveness at Eastern Kentucky University, where she helped develop a graduate program in industrial and organizational psychology and was director for the campus Kentucky Governor's Scholars Program.
Bryan also directed the University of West Florida's School of Psychological and Behavioral Sciences.
Bryan, who earned a Ph.D. in industrial and organizational psychology from The Ohio State University, authored and collaborated on several books, most recently: "Shaping Work-Life Culture in Higher Education: A Guide for Academic Leaders."
At Transylvania, Bryan is preceded by Michael J. Bell, who is interim vice president and dean of the university.