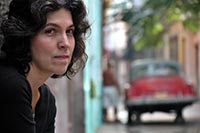 LEXINGTON, Ky.— Acclaimed writer and translator Achy Obejas will give a free, public lecture on "Identity and Dislocation" Wednesday, Feb. 18, at 7:30 p.m. in Conference Room A of the Campus Center during her residency as a Woodrow Wilson Visiting Fellow at Transylvania University.
Obejas, a Cuban immigrant, is the author of critically acclaimed novels "Ruins" and "Days of Awe" and recently co-edited "Immigrant Voices: 21st Century Stories," a collection of short stories written by recent immigrants to the United States. In addition to her public talk, she will lead classes and discussions with Transylvania students and faculty during her week-long fellowship.
"Several faculty members were interested in Obejas and her experience with writing, literature, translation and immigration," said psychology professor Meg Upchurch, who coordinates the lecture series on campus. "This will enable members of our campus community to have sustained conversations with her and explore her ideas more in depth."
Obejas is the Distinguished Visiting Writer at Mills College in Oakland, Calif.
The Woodrow Wilson Visiting Fellows program, which is administered by the Council of Independent Colleges in Washington, D.C., brings prominent artists, diplomats, journalists, business leaders and other professionals to campuses across the United States for a residential program of classes, seminars, workshops, lectures and informal discussions. For 35 years, the Visiting Fellows have introduced students and faculty members at liberal arts colleges to a wide range of perspectives on life, society, community and achievement.
Previous Wilson Fellows at Transylvania have included political journalist Eleanor Clift and artist Robert Shetterly.