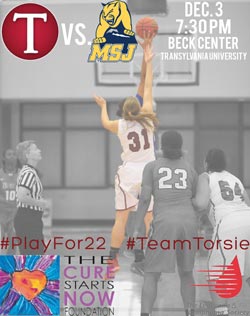 LEXINGTON, Ky. –Basketball will not be the only focus of the night Wednesday, as the 20th ranked Transylvania University women's basketball team hosts Mount St. Joseph University at the Clive M. Beck Center.
Transylvania University will accept donations in support of Torsie Haugli and Lauren Hill, two courageous young women battling cancer. Haugli, a 2014 Transylvania graduate, was diagnosed in May with acute large cell lymphoma and is undergoing treatment at the Cleveland Cancer Clinic. And Lauren, a member of the Mount St. Joseph women's basketball team, battles diffuse intrinsic pontine glioma, a rare form of cancer that affects the nervous system.
All proceeds from Wednesday's game will benefit the Torsie Lymphoma Research Fund and The Cure Starts Now Foundation. Fans who donate a minimum of $1 will have an opportunity to help both causes with a halftime challenge—Layups for Lauren and Torsie. Each donor will spin five times before attempting a layup with their non-dominant hand. Fans can also purchase T-shirts to support the causes with a minimum $5 donation.
Mount Saint Joseph University (2-2) enters the 7:30 p.m. game against an undefeated Transylvania team (4-0).
"The opportunity for us to show our support for these two young ladies is something that I didn't want us to miss and I hope our community can rally around," Transylvania Athletics Director Holly Sheilley said. "The tenacity and strength that Torsie and Lauren have shown and continue to show is worthy to celebrate and spread."