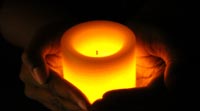 LEXINGTON, Ky.—The Transylvania University community will mark Trans* Week of Awareness and Remembrance with a variety of consciousness raising events on and off campus Nov. 18-21.
The week's main event will be the Trans* Night of Remembrance Ceremony at 7 p.m. Friday, Nov. 21, in Transylvania's William T. Young Campus Center Gym. Sponsored by the Diversity Action Council, the public memorial service will include a candlelight vigil for those who have suffered violence because of gender identity.  A resource fair will follow.
These events will provide not only an opportunity for Trans* people to get together, but also a chance for others to learn about something they may otherwise find uncomfortable to talk about, said Rayne Parker, an organizer and a Transylvania senior. "I hope this week accomplishes more visibility of Trans* persons."
The week's other events will include a Positive Trans* Identity presentation by University of Kentucky professors and a Ph.D. student at 7 p.m. Tuesday, Nov. 18, in the UK Student Center Room 111; and a viewing of the movie, "Normal," followed by a discussion in Transylvania's Student Involvement and Leadership Center (in the Campus Center) starting at 7 p.m. Thursday, Nov. 20.
The local events coincide with the national Transgender Awareness Week.
Trans* people are under-represented in society, said Zoey Peach, co-organizer and Transylvania junior. "They suffer a truly disproportionate amount of violence. We're hoping that these awareness and remembrance ceremonies will bring light to the issues Trans* folks face, and connect many different folks from many different backgrounds to resources throughout the area that can help us combat this violence and create a more aware society."
(The transgender community uses the asterisk to represent the many different identities represented by the term "transgender.")