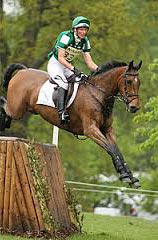 MIDWAY, Ky.—Transylvania University's equestrian team learned from one of eventing's most celebrated riders on Nov. 22 and 23.
Six-time Olympian Mary King—once ranked first in the world—taught a clinic at Three Day Farm, where the school's riders train.
"This will be a very educational experience for our team members to learn from one of the best eventing riders and trainers the sport has ever seen," Transylvania equestrian coach Tanya Davis said before the event.
King, who is from England's Devon County, earned Great Britain two silver medals and a bronze in team eventing in the Olympics. She also won numerous gold medals at the World Equestrian Games and European Eventing Championships.
"We are excited and lucky to have the opportunity for Mary King to come to our farm for her first clinic ever in Kentucky," Davis said.
Three Day Farm is in the heart of horse country—the rolling hills of Woodford County, just a short drive from Transylvania University in Lexington.
The liberal arts school's equestrian team has found much success in competition since starting two years ago, and Three Day Farm has attracted other world-class talent to teach Transylvania riders. This past April, sophomore Charlotte Pruet—who will participate in this weekend's clinic—received a 45-minute dressage lesson from Jane Bartle-Wilson, one of the best trainers in the world.
Pruet looked forward to the lesson. "As an athlete I'm always wanting to grow and develop into a better rider and this is an outstanding way to do so," she said.  "I'm excited to have the opportunity to be coached by an Olympic rider."
Transylvania riders compete in the Intercollegiate Horse Show Association, which serves more than 400 college teams in North America, and the eventing team participates in United States Eventing Association sanctioned competitions with the Intercollegiate Eventing League.