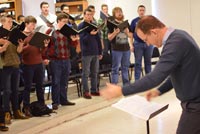 LEXINGTON, Ky.— Members of the Transylvania University Choir will join the Lexington Philharmonic and singers from other area colleges for a massive production of Carl Orff's "Carmina Burana."
The concert will feature about 180 university students, professional soloists, and a children's choir from the School for the Creative and Performing Arts on Friday, Nov. 14, at 7:30 p.m. in the Singletary Center for the Arts.
"Our students are thrilled to be taking on a musical challenge of this scale and quality," said Karen Cooksey, conductor of the Transylvania Choir. "We treasure this unique opportunity to share the stage with a professional orchestra as well as so many other fine university students in our own backyard."
"Carmina Burana" is a powerful work with dramatic climaxes offset by intense lows; those in the audience likely will recognize the opening movement, "O Fortuna," described by Cooksey as a classic action or apocalyptic movie showpiece.
Within the work, Orff sets medieval texts in a modern way. "Through them we see some aspects of the human condition have not changed over the centuries—we still worry about what will happen to us; we still fall in love; we still drink and make merry, and so on," Cooksey said. "It's an incredibly rewarding sing."
The orchestra also will present Alexander Scriabin's "Poem of Ecstasy" during the first half of the program.
Scott Terrell, the Lexington Philharmonic music director and conductor, put Friday night's offerings in context. "We are cultivating an environment where high-level artistry is paramount to building a strong arts community," he said. "One of the ways we support this community is through collaboration with the rich talent found in the region's choral programs."
Read more about Friday's concert, including ticket info.