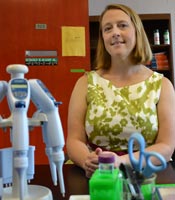 LEXINGTON, Ky.—Part of a $1.9 million National Science Foundation grant will pay for Transylvania University students to investigate microbial diversity over summer breaks at Indiana University.
They will work on a project led by researchers from IU and Notre Dame to find out how dormancy contributes to the fact there are so many varieties of these tiny organisms in the world.
"Microbes are the most diverse and abundant group of organisms on earth, and we don't really understand why," said Transylvania professor Sarah Bray, who worked with project collaborator and IU professor Jay T. Lennon during a recent sabbatical. Dormancy plays a major role in the life of microbes; in one gram of soil we can find thousands of species of them—and up to 90 percent are inactive.
To help explore this factor in microbial diversity, two Transylvania students will work in Lennon's lab each summer for five years beginning next year. Their work will be paid for by $50,000 of the larger grant from the NSF Dimensions of Biodiversity Program.
Depending on their backgrounds and interests, these students could perform tasks such as molecular work; DNA sequencing; growing microbes in petri dishes; and computer modeling.
The project will give Transylvania students access to the equipment of a top research university; a chance to use these particular tools is rare opportunity for any undergraduate student.
And true to Transylvania's liberal arts emphasis on multidisciplinary study, not just biology majors are expected to participate. Math and computer science students, for instance, may take part too.
When they return from IU,  these students will expand on and share what they've learned. "They won't just stop that research at the end of the summer, because they're going to come back to Transylvania and continue their projects, working with me and mentoring other students," Bray said.