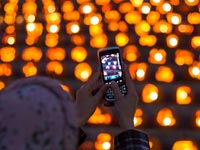 LEXINGTON Ky.—Transylvania University is really "pumping" up for this Halloween.
Hundreds of jack-o'-lanterns have made for a spooky big PumpkinMania display on the steps of historic Old Morrison. The free public lighting ceremony and trick-or-treating was Oct. 27.
The event—which is becoming a Lexington Halloween tradition—is a collaboration between the university and community. Transylvania invited local school children to participate in a carving contest and, of course, put their jack-o'-lanterns on display with the others. The school that brought the most carved pumpkins was recognized at the ceremony, and there was drawing for two participating classes to win a pizza party and $50 in educational supplies.
Transylvania welcomed pumpkins carved by not just students—but the public in general.
"PumpkinMania is a wonderful community event to celebrate Halloween," said Michael Cronk, assistant director of career development and chair of the Staff Engagement Team, which organizes the event. "It's about fun, creativity, and pure joy. And, let's face it, there is  no better place to celebrate Halloween in Lexington than at a place called Transylvania. We hope to see you at the lighting."
Many of the jack-o'-lanterns go beyond the traditional ghoulish grin. Previous PumpkinManias have included a glowing black cat, a Darth Vader, and a spider web.
In addition to helping Lexington get into the Halloween spirit, PumpkinMania is an example of Transylvania's commitment to the local economy. The school community carved 300 pumpkins grown at a farm in nearby Garrard County.
Kentucky Agriculture Commissioner James Comer plans to visit campus Oct. 29 for a Kentucky Proud press conference in front of the jack-o'-lanterns at 11 a.m.
Pumpkins will glow each night from Oct. 27 to 31.